Highest-Grade 1968 Topps Venezuelan Nolan Ryan Rookie Card Up for Auction
Those familiar with Topps Venezuelan cards know how tough they are. For starters, they're extremely hard to find. And even when you do come across one of the vintage gems, landing one in even good condition can be near-impossible. Which is what makes the 1968 Topps Venezuelan Nolan Ryan/Jerry Koosman currently up for bid through Collect Auctions so impressive.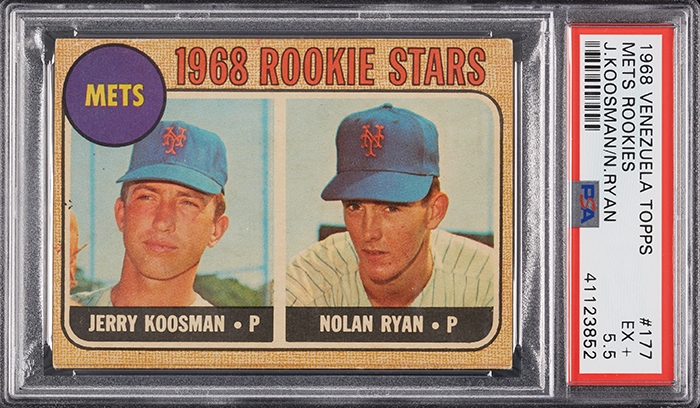 Graded PSA 5.5 EX+, it's currently the top copy of the card. Three copies have a PSA 5 grade. The highest grade from BVG is a 4. Overall, less than 30 of the 1968 Topps Venezuelan Nolan Ryan cards have been graded by PSA. BVG has inspected just two.
A testament to the card's scarcity, around 10,000 regular 1968 Topps Nolan Ryan Rookie Cards have been graded by PSA and over 3,000 by Beckett Grading.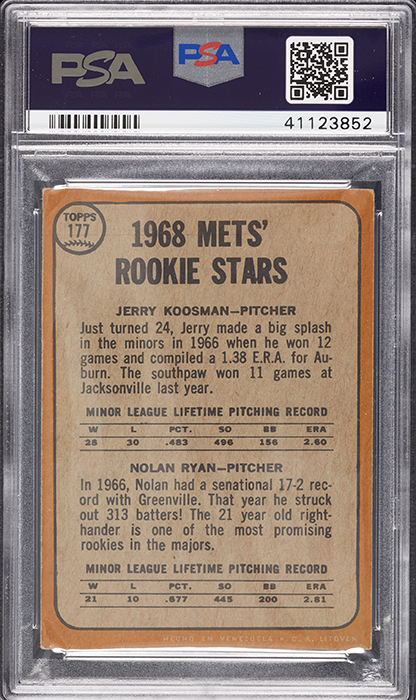 Topps Venezuelan cards were produced for collectors growing up in South America, the quality of the card stock is not nearly as good or durable as their American (and Canadian O-Pee-Chee) cousins. So over the years, the Topps Venezuelan cards have shown a knack for breaking down and showing their age.
This card comes from an impressive Nolan Ryan collection, of which Collect Auctions has several other pieces available. Other items include a PSA 8 1968 Milton Bradley Nolan Ryan, other rare Venezuelan issues, test releases, and tough autograph cards. From more recent times, there's also a 1993 Topps Finest Refractor.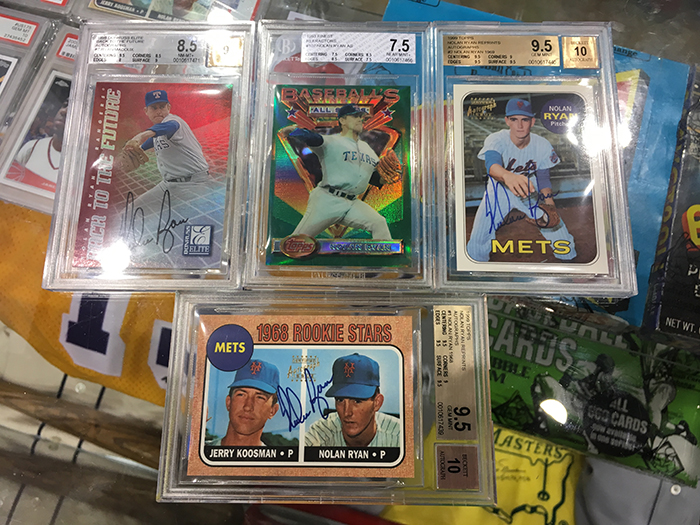 Bidding on the 1968 Topps Venezuelan Nolan Ryan, as well as the other cards in the collection, ends on Thursday, August 9.