Hideki Matsuyama's First Card Isn't Golf, It's Baseball
Hideki Matsuyama made golf history winning the 2021 Masters. When defending champ Dustin Johnson presented him with an iconic Green Jacket, Matsuyama became the first men's golfer from Japan to not only win the Masters but one of golf's majors.
Of course, joining the Green Jacket fraternity is going to send collectors looking. eBay is riddled with unofficial cards that aren't licensed and are little more than homemade novelties. But Matsuyama does appear on a licensed card.
The only thing is, it's not a golf card. It's a baseball card.
Hideki Matsuyama is part of 2018 BBM 2nd Version among the set's Ceremonial First Pitch cards.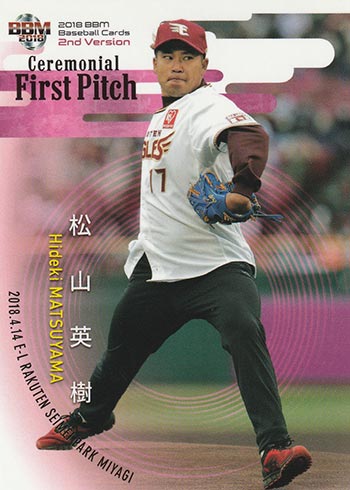 The card is similar to the First Pitch inserts Topps included in the flagship lines from 2015 to 2017. Rather than the game, the cards highlight celebrities and other notable people taking part in pre-game festivities.
In addition to the base version, there are a couple of parallels and even a scarce autograph version.
Like a lot of Japanese baseball cards, the 2018 BBM 2nd Version Hideki Matsuyama isn't easy to find. It appears that none have sold on eBay in the US in the months leading up to the Masters and none have been listed so far since.
It's possible that collectors won't have too much longer to wait for Hideki Matsuyama golf cards, though. Upper Deck will release their first PGA sets since 2014 this year including 2021 Artifacts and 2021 SP Game Used. However, checklists for neither set has been released so it's not known if he'll be part of the lineup.