Hey, Darnold! Broadway Sam Has Arrived – Beckett Pricing Insider
He might not have been the first quarterback taken in the 2018 NFL draft, but Sam Darnold is the first to start a game in the NFL.
Many thought with Teddy Bridgewater on the Jets roster that he would begin the season as the starter and give Darnold some time to learn the playbook more. But with the Jets trading Bridgewater to the Saints, the team made it clear that Darnold is their starter.
The rookie played in three preseason games and played pretty well with his limited time. He threw for 244 yards and two touchdowns with an 84 quarterback rating.
Sam Darnold cards go back to when he started college, appearing in the 2015 Leaf Army All-American Bowl set. Already, Darnold has more than 900 cards, about 500 of which are autographs. With the NFL season just getting underway, that number is going to rise significantly by the end of the season. By comparison, Mitch Trubisky had over 1900 cards by the end of the season.
Darnold's value is among some of the highest in this year's rookie class. Only Baker Mayfield, Saquon Barkley and Lamar Jackson have consistently higher values that him. His most sought after cards to date are probably his 2018 Panini Contenders Draft Picks autographs.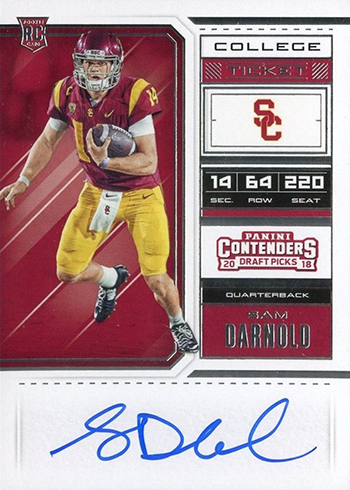 With plenty of sets left to come, including Panini Contenders (the NFL version) and National Treasures, it's likely we haven't seen the most iconic Sam Darnold Rookie Card just yet.
Jets fans and collectors are hoping he has a great rookie season to keep those values high. With the season only days away, they will find out soon enough.