Here's Why Kids Matter to the Hobby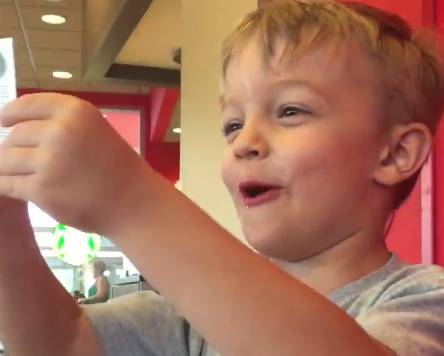 By Ryan Cracknell | Hobby Editor | Commentary
Don't think kids are important to the hobby? You're wrong.
Eli opens @toppscards stickers & gets his fav player @KrisBryant_23 @Cubs he is overcome with emotion pic.twitter.com/2Zfo3RBIWN

— Louie Hillenmeyer (@LHillenmeyer) June 29, 2016
Notice the excitement? Young Eli didn't pull an autograph of his favorite player. It wasn't a one-of-one. It was a simple sticker of "the best one," Kris Bryant, that brought tears of joy. And with that excitement, Eli perfectly illustrates why he and others his age are vital to the hobby.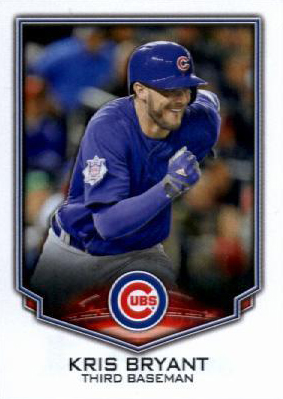 Kids are the future of card collecting. Without them, who's going to want our old cards, let alone new ones? Without an influx of Elis, trading cards run the risk of becoming like other hobbies that we view as being part of a bygone era such as trains and stamps.
That's not a knock against those hobbies. However, I think it's fair to say that a lot of us today simply don't connect with stamps like our grandparents did.
If we're honest with ourselves, we know that sports cards aren't what they once were either. The number of long-time collectors is shrinking. And, overall, it doesn't appear to be getting younger. Yes, there are young collectors out there but they're far from the majority.
Some may argue that kids have been priced out of the hobby. Yes, there are lots of products out there that a normal allowance doesn't cover. But there are plenty that do. Compare the price of a product like basic Topps Baseball to a pack of Pokemon and you'll notice the gaming cards cost the same or more per pack. And yet, Pikachu and Charizard don't have a problem selling packs.
What about the rise in video games? Super Mario was stomping Goombas when the hobby was riding high during the late 1980s and early '90s.
There's more to kids not wanting to collect sports cards en masse than just price point and video games, the most common reasons I hear.
I don't think we can pigeonhole it into one or two factors. I don't know if there's a magic bullet to fix things either.
What I do know is that the hobby needs to build new collectors to survive and even thrive. Getting there won't be easy. We regularly hear from card companies making efforts to attract kids to the hobby, whether it's with on-site initiatives, commercials or "kid-friendly" products.
For shop owners and retailers, the work involved in selling a $3 pack of cards can be tough and not very lucrative. And even when that sale is made, there's no guarantee that you're going to convert them into regular customers. With so many shops and dealers running thin margins, it's easy to see why catering more to a smaller base of regular customers willing to buy cards by the box is more appealing. They're what pay the bills.
But getting kids into collecting can be done. I think it's safe to say there's a good chance Eli might continue to be a collector into the future. And it didn't take a signature or something shiny to do so. It was the simple act of getting a sticker of a player he looked up to. The video shows that connection and the joy collecting can bring in any form.
I believe one the keys here is the connection Eli and other young fans/would-be collectors have with their sports heroes. A lot has changed over the past 20 years, not just in the hobby but how professional sports are viewed. Prickly personalities, legal troubles and the realization of performance enhancing drugs have made it harder for athletes to be true role models, or at least the heroes we grew up watching. Is it fair to expect perfection? Probably not. I do believe there's a generation out there that professional sports in general failed to fully capture because of this disconnect.
But that's changing. Social media is bringing us closer to the pros than ever before and in more intimate ways. That helps us relate to them and, in turn, cheer for them. And there are several players who can be seen as traditional role models, once again. Do you hear people talking bad about Kris Bryant, Mike Trout or Andrew McCutchen? Maybe about their play, but their overall images are strong.
Sports cards can be as nice and enticing as they want to be, but if they don't represent our heroes, it won't matter. Intrigue over the fancy stuff like autographs and patches might draw some people in, but it's that hero worship of sorts that is going to make lifelong collectors.
One could argue that we wait until these kids are older before spending time and advertising dollars on getting them into cards. I think by then it's too late. So much of card collecting is based in nostalgia that it's important the exposure starts at an early age. If you don't have any warm memories about something, how can you get nostalgic about it when you hit your thirties? If we fall in love with the game at the age of 5, why wait until we're 25 to start ripping packs? Those heroes are going to likely be retired or close to it.
If we don't get more Elis into the hobby soon, the number of regular card collectors going to continue to shrink and we're going to have a hard time selling our collections off or even passing them down. This isn't a doomsday scenario. Card collecting will be around for generations to come. But whether that's a smaller niche or a mainstream collectible remains to be seen.
Comments? Questions? Contact Ryan Cracknell on Twitter @tradercracks.