Here's Where to Find the First Nick Mullens Cards and When They Arrive
Not much has gone right for the San Francisco 49ers this year. Jimmy Garoppolo is out for the season. Entering their Thursday Night Football Game against the Oakland Raiders, they had a 1-7 record.
Then Nick Mullens happened.
An undrafted free agent, he made his NFL debut starting for the 49ers against Oakland taking over for the injured C.J. Beathard. And while the Raiders have been bad this year as well, it shouldn't take away from what Mullens did. It started with touchdowns on his first two drives. It ended in a decisive 34-3 victory.
Mullens completed 16 of 22 passes for 262 yards and three TDs.
If you're scrambling for Nick Mullens cards, there's no need to. At least not yet. As of right now, he doesn't have any.
Well, he didn't at the time of his debut. That's changed. Just a few hours after the game ended, Mullens was added to the 2018 Panini Instant Football checklist. However, the print-on-demand card is available fora short time on Panini's website. And it'll take a bit of time after that for the cards to print and ship. But the first copies should start showing up on the secondary market within a few weeks.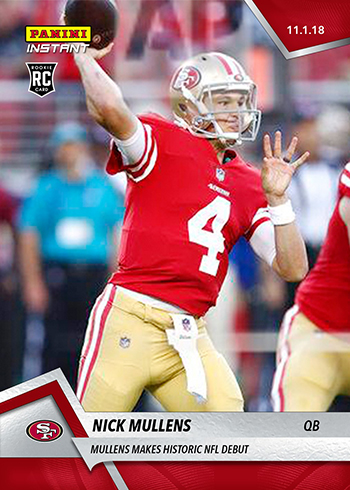 As for more traditional pack-inserted cards, it's going to be a couple of months. According to Rob Springs, Panini Director of Product Development, Mullens will be in 2018 Panini Limited Football. It's scheduled to release in January.