Here's What the Topps Star Wars: The Last Jedi Opening Night Promo Cards Look Like
If you're heading to Star Wars: The Last Jedi as part of a special Thursday event screening, you might be leaving the theatre with more than just memories. Topps has produced a set of promo cards that are being handed out at select screenings through multiple chains.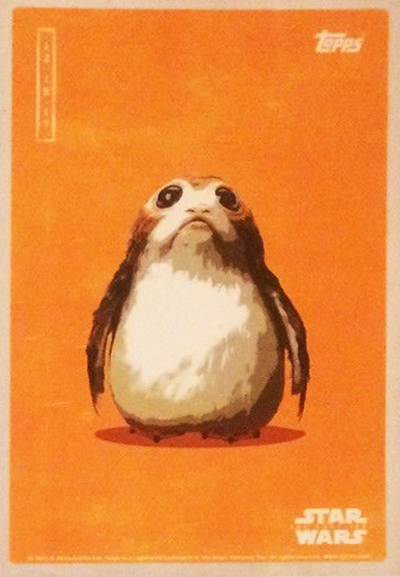 The cards, which are larger than traditional trading cards, are double-sided. Each side takes a Resistance or First Order theme using a stylized illustration of a character, weapon, droid or vehicle.
The cards replicate a series of Last Jedi Pop Icon posters.
Depending on how you go about it, building the set shouldn't be too hard. That said, packs have only three of the eight cards. There's also have a header card with the Last Jedi logo. The back side of the header also includes a code for the Disney Movie Rewards program that you can use to get the full set.
Last Jedi fan event screen cards are not standard card size. They are 4"x6" or so. 4 double sized. Code for Disney Rewards to get full set. @tradercracks pic.twitter.com/3Gv4W94zP6

— Barry (@ScoobyDew79) December 14, 2017
Some packs and sets are already showing up on eBay. Expect to see plenty more shortly as more screenings happen.
With the Disney Movie Rewards codes, you may want hold off before spending lots of money on the secondary market, though. The offer appears to only be valid in the United States, though.
Here's a look at the full set of eight cards courtesy of an early eBay listing: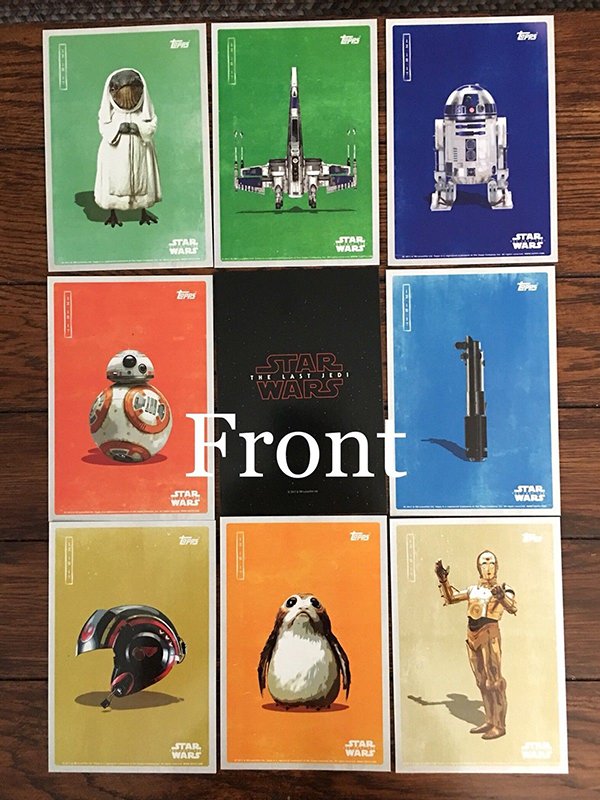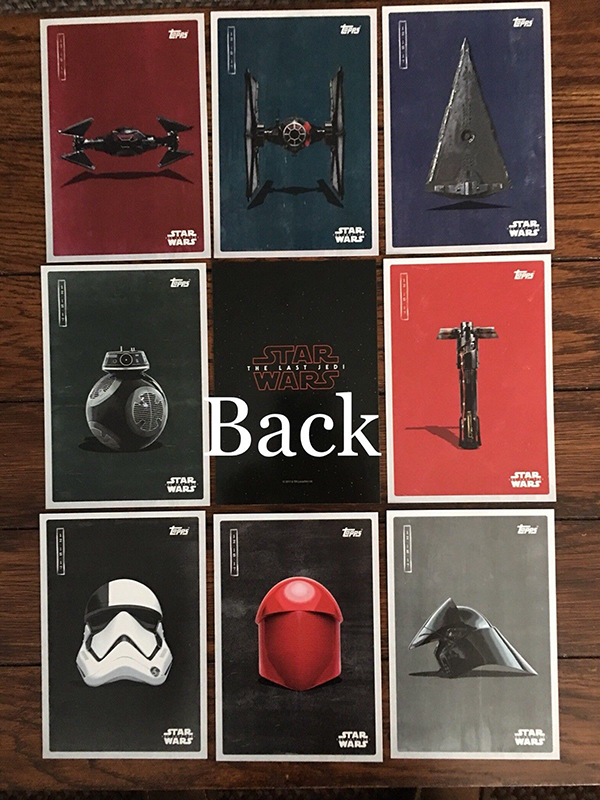 The main 2017 Topps Star Wars: The Last Jedi trading cards release Friday, December 15.
Comments? Questions? Contact Ryan Cracknell on Twitter @tradercracks or by email.