Here's Jeff Bagwell's First Baseball Card Contract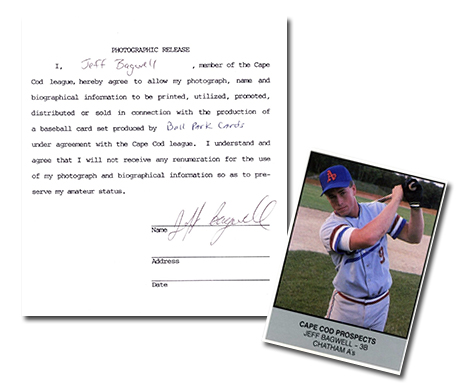 By Ryan Cracknell | Hobby Editor
The first Jeff Bagwell cards came out before he had even turned pro. In 1988 he appeared on a couple of cards for the amateur Cape Cod League.
The release for one of these cards, the 1988 Cape Cod Prospects Ballpark Jeff Bagwell, was recently listed on eBay, offering a little insight and history into Bagwell's place in the hobby.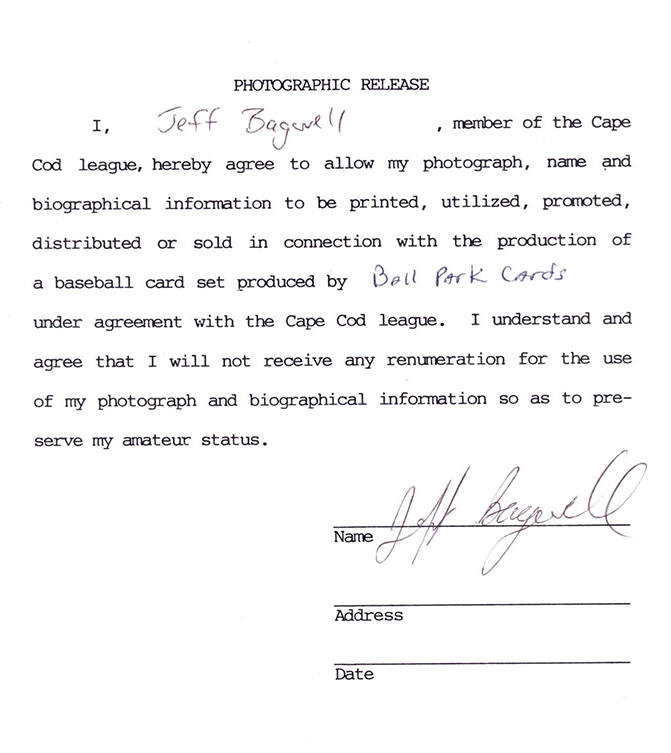 The photo release is essentially a contract in which a 19- or 20-year old Bagwell (the document isn't dated) agreed to allow his name and image be used by Ballpark specifically for baseball cards.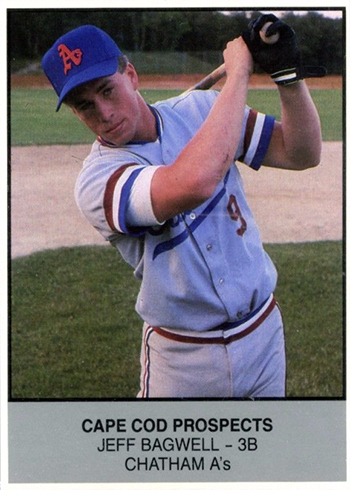 Bagwell didn't get any sort of payment from Ballpark. Doing so would have disqualified him from being an amateur.
Besides the bit of hobby history, the contract has Bagwell's signature.
In addition to Bagwell, the 30-card 1988 Cape Cod Prospects Ballpark checklist includes Frank Thomas and Mo Vaughn.
This wasn't the card Bagwell had in 1988. He was also part of the 1988 Cape Cod Prospects P and L Promotions set.
The seller, randyswatches, was asking $799.99 for the contract. The listing ended on January 9, 2017 without a sale.
In recent years, many baseball card contracts have hit the secondary market as Topps unloads extra items from their vault. These typically sell anywhere from around $10 to several hundred dollars depending on the player and year.
Comments? Questions? Contact Ryan Cracknell on Twitter @tradercracks.