Here's a Sweet 2016 Topps Bazooka Todd Frazier Promo Card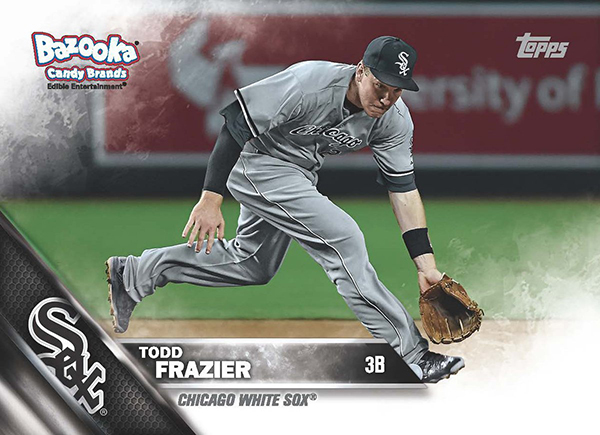 By Ryan Cracknell | Hobby Editor
You might have Todd Frazier's 2016 Topps Series 1 card or his many other regular cards and inserts. But do you have the 2016 Topps Bazooka Todd Frazier promo card? Unless you're in the candy business, you may not have even seen one.The card was given out exclusively at the 2016 Sweets and Snack Expo on May 24 in Chicago. The Frazier card is numbered BCB-1. It has the same general design as 2016 Topps Baseball but with the added Bazooka logo. It also has a different photo from Frazier's Series 1 card, which still had him on the Reds.
Frazier was on hand at the event to not only give cards out but sign them as well.
While it's unknown exactly how many of the 2016 Topps Bazooka Todd Frazier cards were made, it doesn't look like it was many. And those that received them aren't necessarily baseball card collectors either so they may be simply tucked away or (gasp!) not even kept. In the almost two months since the card was given out, it doesn't look like any have surfaced on eBay.
According to event organizers, more than 16,000 people attended the 2016 Sweets and Snacks Expo.
Comments? Questions? Contact Ryan Cracknell on Twitter @tradercracks.