Here's a Genius Tool to Tell You What Size Top Loaders and Magnetic Holders You Need
Sports cards are like people — they come in all shapes and sizes. Picking clothes is usually pretty easy since we know what size we need. Cards are a little more complicated. They don't tell us how big they are, at least not directly.
So when it comes to getting out the appropriate top loaders and magnetic holders, some trial and error might ensue. And if you don't have a card shop nearby where you can run out and try them all, you might have some sweet, albeit massive, card sitting in a make-shift case or out in the open on your desk. Neither situation is ideal.
Finally, someone has come up with a simple tool that makes it dead simple to figure out exactly how thick a card is and what the corresponding top loader and magnetic holder is.
How Thick Is Your Trading Card?
BCW Supplies has released a downloadable card-sized gauge that shows various thicknesses their sports card holders come in. Simply print off the PDF and keep it handy. The sheet has four of them so you can print it once and cut out one for your card area, one for the wallet, one for the car and one for wherever else you might open some packs or mail.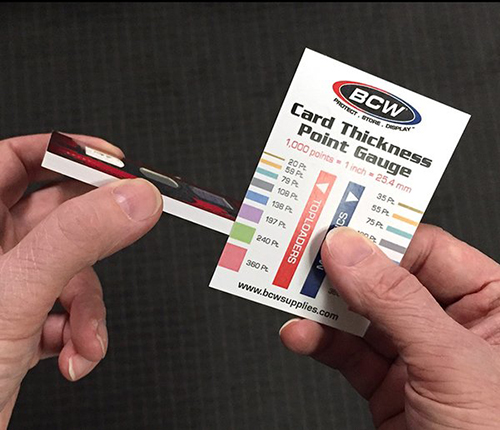 If you have a desk full of cards, you might want to save a copy of the file on your computer and have it handy so you can simply hold the cards up to your screen. Just remember to have the zoom on the PDF set to 100% so that the sizing is accurate. This should also work on your phone as well.
To use the gauge, hold your card up to it starting at the top. If your card is thicker, keep moving down until you get the right size. Remember, some memorabilia cards stick out a bit so you'll want to take that into account.
Top loaders and magnetics do come in different sizes. But, like cards, they're measured in points, which is a language most of us don't speak or have a ruler to measure. Consider the BCW card gauge that ruler.
Further details on the gauge are posted on BCW's website.