Here are the rookie cards in 2016 Topps Series 1 Baseball and beyond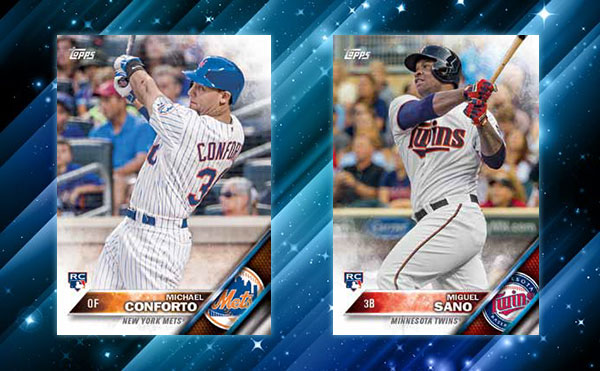 By Ryan Cracknell | Hobby Editor
2015 was a big year for rookies in baseball. While Kris Bryant and Carlos Correa captured a lot of the attention, 2015 baseball card sets also featured Francisco Lindor, Joc Pederson, Addison Russell, Jorge Soler, Jung Ho Kang, Noah Syndergaard and many others. But collectors might have noticed that several key players didn't get their first base cards in MLB products last year. That means there's a big crop available for the 2016 Topps Series 1 Baseball rookie cards.
That better-than-usual crop also carries over to other early-season 2016 baseball card sets.
Kyle Schwarber, Miguel Sano and Michael Conforto are just some of the highly-touted young players with rookie cards in 2016 Topps Series 1.
Every year there's a cutoff date for players to be eligible for rookie cards. Often, if you go and look at when players were called up to the majors, those debuting through July often find them way into products that same year, even if it's just a couple at the end of the year.
It looks like that date was pushed up for 2015 rookies, likely in response to an already large list of impact rookies. For example, Schwarber in mid-June. His only cards last year were inserts, so not official rookie cards.
In 2014, Kyle Hendricks made his debut on July 10. He later appeared in 2014 Topps Heritage High Number.
Whether you're on the business side or just a collector, there's pros and cons to a sliding date. 2015 has lots of cornerstone names already. It's arguable that the inclusion of Schwarber, Sano and others would have made a huge difference to overall sales. But by holding them back, it guarantees that there are notable rookie cards in 2016 products — and not just a few at the end of the year.
On the flipside, some of these players are no longer rookies so getting their first base cards might not have quite the same timely appeal as they might have. And if cards were printed, there wouldn't be a lot of choice for later call-ups as they'd likely be limited to the last sets of the season.
There's also the Bowman Effect. While these players might not have official rookie cards, it's not like they're without baseball cards entirely. All the major names have lots of prospect cards from years past at all price ranges. Although still very important, rookie cards don't necessarily carry the same magic as the past. A lot of collectors are looking at first Bowman Chrome autographs and other prospect cards.
No matter how you look at it, even before we see which rookies make an impact in 2016, there is no shortage of rookie cards. Here's a 2016 Topps Series 1 Baseball rookie cards checklist. It's also a good indicator of the key names that will likely have rookie cards in future products and throughout 2016.
2016 Topps Series 1 Baseball Rookie Cards Checklist
Dariel Alvarez, Baltimore Orioles
Alec Asher, Philadelphia Phillies
Greg Bird, New York Yankees
Silvino Bracho, Arizona Diamondbacks
Michael Conforto, New York Mets
Kaleb Cowart, Los Angeles Angels
Alex Dickerson, San Diego Padres
Jerad Eickhoff, Philadelphia Phillies
Brian Ellington, Miami Marlins
Dustin Garneau, Colorado Rockies
Zack Godley, Arizona Diamondbacks
Jon Gray, Colorado Rockies
John Hicks, Seattle Mariners
Travis Jankowski San Diego Padres
Brian Johnson, Boston Red Sox
Ryan LaMarre, Cincinnati Reds
John Lamb, Cincinnati Reds
Zach Lee, Los Angeles Dodgers
Ketel Marte, Seattle Mariners
Aaron Nola, Philadelphia Phillies
Hector Olivera, Atlanta Braves
Henry Owens, Boston Red Sox
Jose Peraza, Los Angeles Dodgers
Stephen Piscotty, St. Louis Cardinals
Colin Rea, San Diego Padres
Rob Refsnyder, New York Yankees
Keyvius Sampson, Cincinnati Reds
Miguel Sano, Minnesota Twins
Kyle Schwarber, Chicago Cubs
Corey Seager, Los Angeles Dodgers
Luis Severino, New York Yankees
Richie Shaffer, Tampa Bay Rays
Darnell Sweeney, Philadelphia Phillies
Trayce Thompson, Chicago White Sox
Kelby Tomlinson, San Francisco Giants
Trea Turner, Washington Nationals
Comments? Questions? Contact Ryan Cracknell on Twitter @tradercracks.