University of Wisconsin aims to stop sales of star quarterback's baseball cards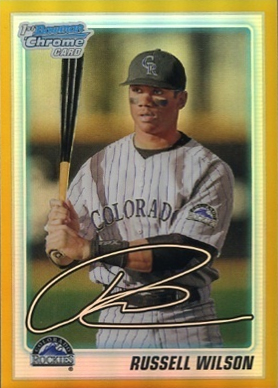 By Susan Lulgjuraj | Contributing Editor
Russell Wilson baseball card owners might get a letter from the University of Wisconsin if they have his cards for sale.
Wilson has cards in 2010 Bowman Chrome Draft Prospects, 2010 Bowman Draft Prospects and 2010 Topps Pro Debut after he was drafted by the Colorado Rockies in the 2010 draft and played second base this summer for the Class-A Asheville Tourists.
However, Wilson is also the quarterback for the Wisconsin Badgers. He transferred there from N.C. State. He has thrown for 2,416 yards and 25 touchdowns for the 8-2 Badgers this season.
On Wednesday, a top-rated eBay seller, Alma Montoya (username: Charlieshustle), received a message from a person who says they are affiliated with the University of Wisconsin. He has a 2010 Bowman Draft Prospects card for sale for $1, but was asked to take the card down.
The letter from a woman identifying herself as Katie Smith, Director of Compliance, stated:
"NCAA rules (Bylaw 12.5.2.2) prohibit the use of a student-athlete's name or picture to advertise, recommend, or promote directly the sale or use of a commercial product or service of any kind. Therefore, as is required under NCAA rules, I am writing on behalf of the institution to demand formally that you immediately cease and desist the use of this advertisement in order to protect the eligibility of the student-athlete. Please be advised that NCAA regulations prohibit you from using the name, picture, or any likeness of any current University of Wisconsin-Madison student-athlete in any commercial manner."
A message was left at her office and has not been returned.
The eBay note was sent from account 'uw-compliance,' which looks as though was set up in mid-October, according to the site.
NCAA bylaw 12.5.2.2 specifically states: "You are not eligible in any sport if, after you become a student-athlete, you accept any pay for promoting a commercial product or service or allow your name or picture to be used for promoting a commercial product or service. [Bylaws 12.5.2.1 and 12.5.2.2]"
Wilson wouldn't be the first athlete to compete professionally in one sport while maintaining college eligibility in another. He also wouldn't be the first to appear on a card at the same time.
Ricky Williams and Josh Booty were both football players who had previously played baseball and appeared on widely available cards.
Williams was drafted by the New Orleans Saints in 1999 out of the University of Texas, but Williams played minor league baseball from 1995-1998,  appearing on baseball cards.
Booty played professional baseball before playing college football. He was the Florida Marlins' first-round draft pick in 1994 and was in the organization until 1998. He played for the Marlins from 1997-99 and took home a World Series ring in 1997.
Booty started his football career in 1999 at Louisiana State University. By then, Booty had baseball cards in Classic, Upper Deck Minors, team-issued cards, Bowman, Leaf, Donruss, Pacific and Fleer. He is currently a free agent.
Montoya said he doesn't know what he is going to do with is listing yet.
But if Wisconsin plans on policing all of the cards on eBay, its compliance office has a lot of work to do.
As of Wednesday at 6 p.m., there were 59 Wilson listings on eBay — many Wisconsin items. A 2010 Bowman Chrome Gold Refractor of his recently sold on eBay for $39.99.
Susan Lulgjuraj is a contributing editor for Beckett Media. You can email Susan here. Follow her on Twitter here.