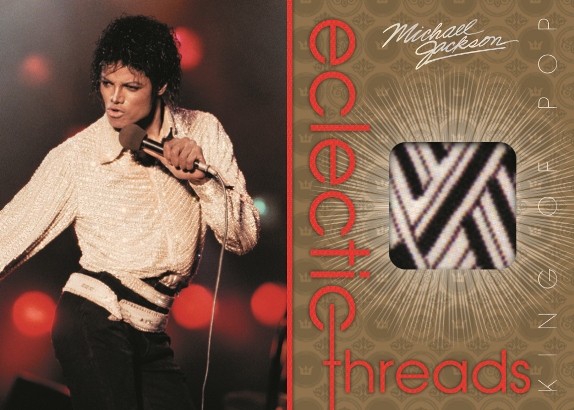 By Andrew Tolentino | Assistant Editor
Shamone!
Earlier this week, Panini America revealed a look at awaited  trading card thriller 2011 Michael Jackson.
Set for a June 8 release  date, the company's homage to the King of Pop will moonwalk into the market with a $2.99-per-pack price tag and an array of Jackson-inspired cardboard. Each 24-pack box promises a breadth of inserts themed after the icon's legendary career. According to early odds, adventurous collectors can expect to pull 12 Decades, eight Top Tens, six Number Ones, five Gold Parallels, one Platinum Parallel and one Number Ones Deluxe card per box.
The real chase comes in the 20-box case.
Ideally featuring actual memorabilia worn by the other MJ, case breaks should yield one or more hits including limited Diamond Parallels, Eclectic Threads (shirt, pants and dual swatches), Televised Fashions, and Jackson Live (single and dual swatches).
As Jackson jolts trading-card traditionalism,  we're interested to hear about the way this set makes you feel. (The way it makes you feel).