Heading to the Fall 2016 Sportcard & Memorabilia Expo? Check out what Beckett Media has to offer!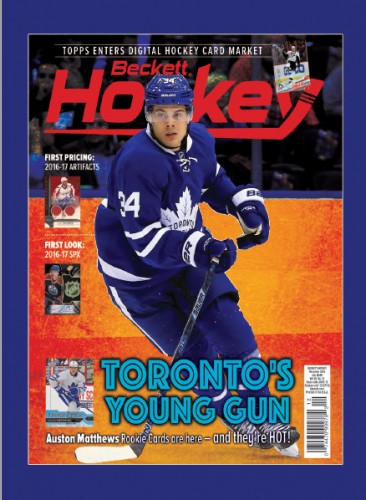 By Stephen Laroche | Beckett Media
The excitement among hockey collectors for the Fall 2016 Sportcard & Memorabilia Expo in Toronto is starting to reach a feverish pitch and Beckett Media will be in the thick of things as we plan to offer all of our latest titles along with an opportunity to get your cards examined for Raw Card Review by Beckett Grading Services.
Beckett Media will be split into two distinct areas in the corporate area at the Expo, with each one offering great deals and excitement for collectors. Those that wish to pick up copies of our publications can visit staff in the Universal Distribution booth and those looking for Beckett Grading Services can stop by the Grosnor Distribution booth. Additionally, representatives from Beckett Authentication Services will be available to speak with collectors in advance of our exciting new service being offered, but they will not be able to provide any authentication at this particular show.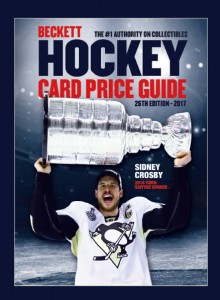 There is also an exciting scavenger hunt program where collectors can go out and find 10 different over-sized Beckett promos featuring some great covers from the past on the floor and redeem them for a limited bonus set of three additional cover promos that has been printed on metal stock. For a complete list of participating booths to visit, stop by the Beckett booth at Universal Distribution to obtain a flyer which fully describes the program.
December issues of Beckett Hockey, Beckett Baseball, Beckett Basketball, Beckett Football, and Beckett Sports Card Monthly will be on sale for $12 CDN/$10 USD. Additionally, there are also some other Beckett Media publications like Beckett Vintage that will be available in limited quantities.
For those looking for our larger books, this is the first show where you will find the freshest editions of the Beckett Hockey Price Guide and Beckett Basketball Price Guide. All books will be $10 off the cover price, depending on which currency you pay in.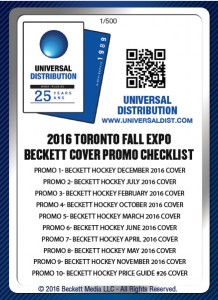 Collectors that wish to participate in Raw Card Review can come to the booth for some show specials. For those wishing to submit one to five cards, the rate is $13 CDN ($10 USD) each. Larger quantities will get price breaks as six to 50 cards are $11 CDN ($8 USD) each while a submission of 51 to 99 cards drops the rate to $10 CDN ($7 USD) per card. For orders of 100 cards or more, the discount moves down to $9 CDN ($6 USD) each. Please note that autograph fees remain at $2 per customer, per card, regardless of currency.
It should also be noted that on the final day of the show, collectors and dealers dropping off cards for Raw Card Review should arrive at the Beckett booth early since a cut-off time will be in effect.
Finally, customers wishing to pay via credit card should note that their cards will be charged at the U.S. price levels. We look forward to meeting you there!