Has Vladimir Guerrero Jr.'s Time Finally Arrived? – Beckett Pricing Insider
Is it finally time for Vladimir Guerrero Jr.?
He's ranked as the #1 prospect in all of baseball by three of the top scouting services in the game: Baseball America, MLB.com, and Baseball Prospects.
Last year, between four teams from the Rookie League all the way to AAA, he hit .381 with 29 doubles, 20 home runs and 78 RBIs in 408 plate appearances.
He was voted the Minor League Player of the year by basically every publication known to man.
I thing it's safe to say that Vladimir Guerrero Jr. is ready for the big leagues.
Unfortunately, the son of the 2018 MLB Hall of Fame inductee has been held back from the sport's top level. In spring training, he strained his oblique, forcing him out for the beginning of the year. But even before the injury, it was likely he still would've started the year in the minors.
The main reason suspected that he's been held back is so the Blue Jays can take advantage of the service time rules and control his contract for an extra year. According to MLB rules, a season is 187 days long and anyone who is on the 25-man roster for 172 or more days accrue one full season of service time. Teams will stash top prospects down in the minors for a few weeks and they get an entire extra year of control.
We've seen this many times before. The Cubs did it with Kris Bryant in 2015 and the Braves did it with Ronald Acuna last year. While it's possible the Blue Jays may have went the other route like the Padres did with Fernando Tatis Jr. and put Vlad on their Opening Day roster, the Blue Jays don't really expect to contend this year while. From a front office perspective, it's like wasting a year for a couple of weeks that won't matter much to the team.
I think the time is finally here though, as I'm expecting Vlady to get the call in the next week or two. I'm guessing he makes his debut sometime next week when the Blue Jays are back at home. I could be way off. though. The Blue Jays front office are the ones making the call.
But his injury got him past the service time date so the Blue Jays have nothing to worry about and he resumed baseball activates earlier this month. He's now in his second week playing in the minors and from the way he hit this ball, it looks like he's ready.
Already one of the hottest players in the hobby, Guerrero Jr. has over 800 card in the Beckett Database with over 250 autograph cards. With a dad in the Hall of Fame, he was immediately popular among collectors and that only grew as he rose in the prospect rankings. As we approach his much-anticipated debut, the demand for his cards doesn't seem to be slowing down as many of his cards are selling for extreme prices.
Let's take a look at some of his big recent sales.
2016 Bowman Chrome Prospect Autographs Orange Refractors #CPAVG Vladimir Guerrero Jr. 23/25 BGS Gem Mint 9.5/10 – $17,000
Anyone in the hobby knows that the crème de la crème for any player is their 1st Bowman Chrome Prospect Autograph card. For Vlad, his 1st Prospect Autograph came in boxes of 2016 Bowman Chrome.
After it was released, a BGS 9.5/10 of his base autograph sold for around $150 towards the end of 2016. By the beginning 2018 sales were up to around $400. In August, 2018 sales were around $800 and now sales are for more than $1,000.
The extremes get even bigger for the Refractors, particularly rare ones like this. This Orange Refractor, which has 25 copies and is graded a BGS 9.5 with a 10 autograph, sold for as much as a car.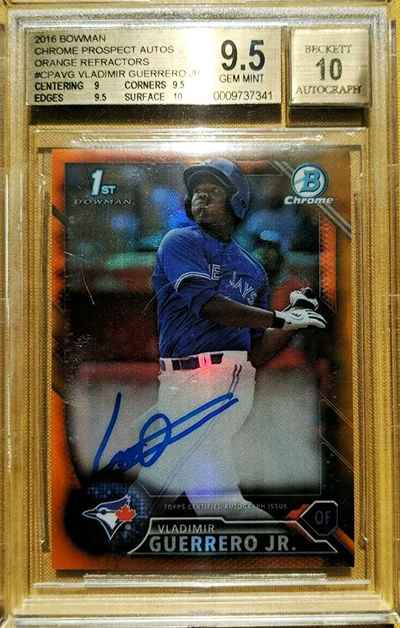 2016 Bowman's Best Best of 2016 Autographs Atomic Refractors #B16VG Vladimir Guerrero Jr. 04/25 BGS Gem Mint 9.5/10 – $1,000
Another top product for prospect collectors, Bowman's Best also provides a more affordable option for anyone who is seeking prospect cards with that chrome finish. One of the most popular parallels in Bowman's Best are the Atomic Refractors and this one was an autographed version numbered to just 25.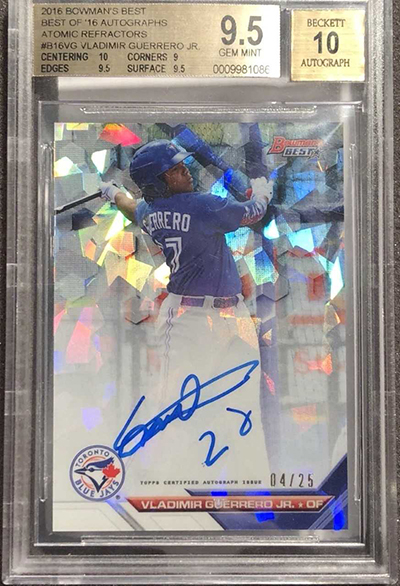 2018 Bowman Chrome Mega Box Prospects Refractors #BCP150 Vladimir Guerrero Jr. BGS Pristine 10 – $515
Who doesn't love a Black Label? Back to the Bowman Chrome but this one is a little different. Inserted into Bowman Chrome Mega Boxes, these cards were available exclusively from Target. They differ from the regular Bowman Chrome cards as these cards have a unique pattern in the background. This copy is the only BGS 10 Black Label with 10s for all four subgrades.