Hart for a Devil: The Rise of Taylor Hall – Beckett Pricing Insider
If all you paid attention to during the 2017-18 NHL campaign was the Vegas Golden Knights' incredible run to the playoffs or Ovi and the Caps bringing home their first championship in franchise history, you may have missed the impressive season that Taylor Hall put together in New Jersey.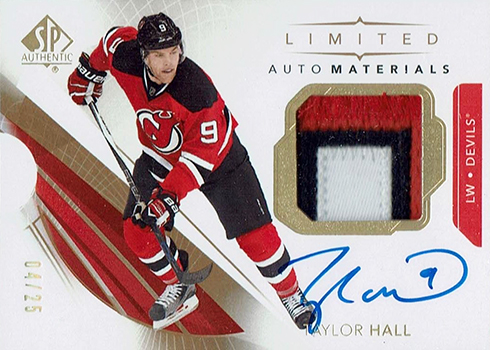 How impressive?
Impressive enough to win his first Hart Trophy as the NHL's most valuable player.
Hall notched 93 points this past season on 39 goals and 54 assists. He is the first ever player to wear a Devils sweater to win the award. Hall edged out Nathan MacKinnon. Anze Kopitar, Claude Giroux, and Connor McDavid also got votes to round out the top five vote getters.
The young Devils young benefited from playing alongside New Jersey's #1 draft pick Nico Hischier for the majority of the season.  The two were able to establish a chemistry that allowed both of them to shine on the ice and on cardboard as well.
Hischier was almost a given for collectors as he was at the top of the rookie class. But Hall may have snuck by some who were not watching the Devils closely.
Thinking about adding some Taylor Hall to your collection during the off-season may not be a bad idea, because if the 2018-19 season is anything like last season, his cards may turn into tough commodities for those looking to get in on him.