Hardcourt Heroes of the Week: Harden, Westbrook and Wiggins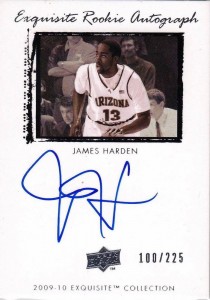 Each week, we will take a look inside the NBA and will give you the top three players of the week and provide a rundown on why collectors should take notice. Please feel free to leave your comments for a healthy debate.
By Derek Ficken | Beckett Basketball Analyst
James Harden – SG – Houston Rockets
Last Five Games: 29 PPG, 6.6 APG, 5.6 RPB
To say that Harden has been the leader for the Rockets this season is a complete understatement. With Houston only six games back of Golden State for the Western Conference lead, Harden seems to be scoring like it is going out of style. In the first few games of February, Harden has an average of 35 PPG and he just tied his season-high total of 45 points against a Blazers team that has plenty of weapons. Harden is a viable option for the MVP award at the end of the season. Unfortunately for Harden collectors, his hobby value doesn't reflect his production on the court. There has been an increase in some of his key cards though. In the middle of the 2011 season, his 2009-10 Playoff National Treasures JSY AU RC was valued at $200. Thanks to a new team and increased production, the value has soared to $800. While the time has passed to pick up many of his autographed RCs had bargain prices, 12 of his 27 RCs are valued at $10 or less. His 2009-10 Topps is a good buy at just $6.
Key Cards to Collect:
2009-10 Playoff National Treasures #203 JSY AU/99 RC ($800)
2009-10 Exquisite Collection #45 AU/225 RC ($300)
2009-10 Topps #400 RC ($6)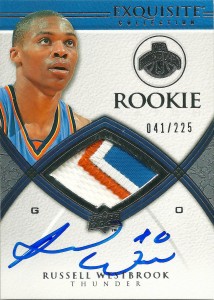 Russell Westbrook – PG – Oklahoma City Thunder
Last Five Games: 30.2 PPG, 8.6 RPG, 8.2 APG
It looks like Westbrook has finally hit his stride on the court and in the hobby. After missing the first month of this season, he is already hit 40-plus points four different times this season with his two highest point totals coming against the New Orleans Pelicans this past week (48 on Feb. 6 and 45 on Feb. 4). Last season, his key cards took a tiny dip in value, though they seem to have started to rebound. Recent sales have been especially strong on his more affordable Rookie Cards like his 2008-09 Bowman Chrome ($20) and his 2008-09 Topps Chrome ($20). His certified autographs are still pricy, though we price sixty different autographs at $50 or less.
Key Cards to Collect:
2008-09 Exquisite Collection #93 JSY AU/225 RC ($800)
2008-09 Upper Deck # 262 RC ($12)
2008-09 SPx #114 JSY AU/99 RC ($200)
Andrew Wiggins – SF – Minnesota Timberwolves
Last Five Games: 41 MPG, 17.8 PPG, 5 RPG
Andrew Wiggins is making his second appearance on Hardcourt Heroes of the Week because of his continued success on the court, which has been translating into big dollar amounts for his key cards in 2014-15. His recent trip back to Cleveland showed the Cavs what they've been missing all season, dropping a career-high 33 points against a Cavs team that was in the middle of a 13 game winning streak. Wiggins has proven to be the clear frontrunner for the Rookie of the Year award. His card continue to be strong sellers on the secondary market, with his certified autographs values from recent products like 2014-15 Paramount and 2014-15 Court Kings exceeding $300. His basic Rookie Cards are starting out at between $5 and $10 in mid-range products like 2014-15 Panini Prizm, higher than any other 2014-15 rookie.
Key Cards to Collect:
2014-15 Paramount Next Day Autographs #NDAW /100 ($300)
2013-14 Panini Signatures '14 Draft X-Change #1 ($120)
2014-15 Court Kings #200 /49 RC ($100)