Happy Birthday, Hank Aaron!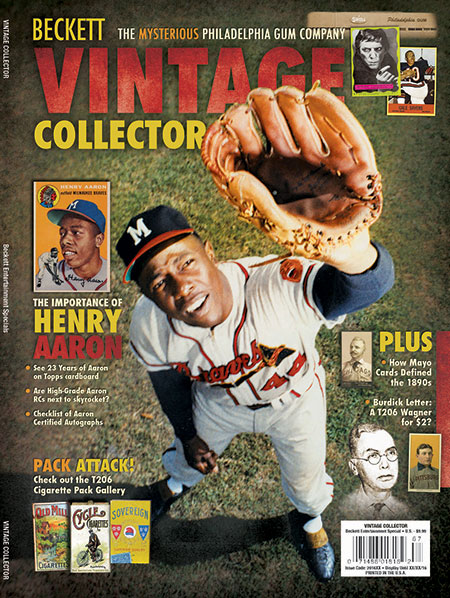 On the day Hank Aaron celebrates his 82nd birthday, Beckett Vintage Collector is revealing the cover of the next issue of the magazine – The Hammer himself in a vintage image circa 1957.
A feature on Aaron and his standing in the hobby, along with a gallery of virtually every one of his Topps cards from 1954 to 1976 are included in the issue. Also shown in the issue: Aaron's first card, a 1952 postcard picturing a 17-year-old Aaron as a member of the Indianapolis Clowns of the Negro American League.
Also included in the issue is a feature on the mysterious Philadelphia Gum Company, an in-depth look at the 1895 N300 Mayo cards, 1972-73 O-Pee-Chee Hockey and 1961 Fleer Basketball as well as key recent auction sales.
Beckett Vintage Collector is published every two months.
The Aaron issue will be on-sale in hobby shops February 24, and mass newsstand and bookstores in March.