Happy 101st Anniversary, Green Bay! – Beckett Pricing Insider
This edition of the Beckett Pricing Insider is brought to you by GTS Distribution. Watch Go GTS Live – The Hobby's Web Show, every Thursday at 9 PM EST.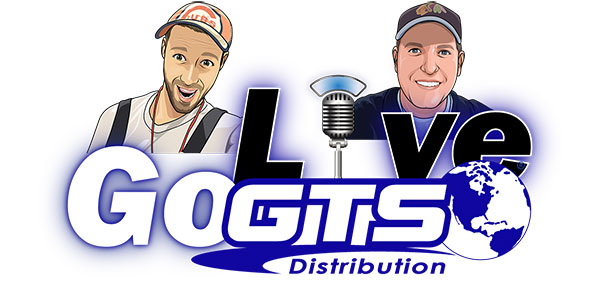 This week marks the 101st anniversary of one of football's most legendary franchises. On August 11, 1919 Curly Lambeau founded the Green Bay Packers. In their history, the Packers have had some amazing players like Bart Starr, Reggie White and Brett Favre. They were also part of what is considered the greatest rivalries in football against the Chicago Bears. The Packers were one of the most dominant teams for several years.
In their history have won 13 total championships including four Super Bowls.
For collectors, the Packers are considered one of the top-tier teams to collect. Along with the Steelers and Cowboys, Green Bay has some of the most sought-after cards. There have been many huge names that have worn the green and gold and collectors will pay a premium for those cards.
Let's take a look at some iconic Packers and some of their interesting cards (I am not posting Aaron Rodgers or Brett Favre since everyone knows about them already).
2001 Upper Deck Rookie F/X Legendary Cuts #LCVL Vince Lombardi /221
Winning isn't everything, it's the only thing! When your name is on the Super Bowl trophy it's safe to say that you have a legendary coach. Even though there are 221 copies of this card, it still sells for over $1,000 on the secondary market.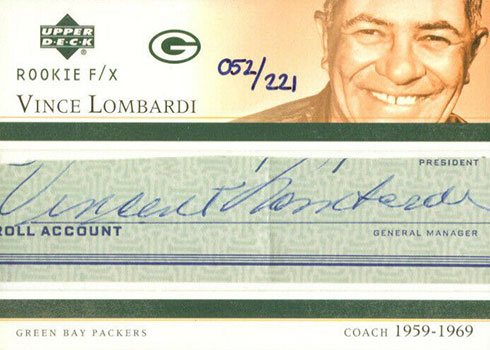 2003 Leaf Certified Materials Fabric of the Game #49JN Reggie White AU /92
The greatest defensive player in the history of the NFL once wore a Packers uniform. Reggie White passed away too young, but collectors still love getting their hands on his cards. This one sold for close to $1,000 recently.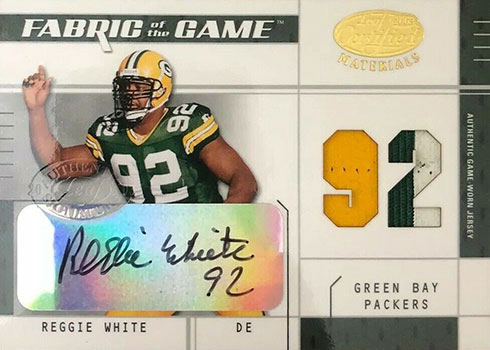 2009 Upper Deck Mystery Iconic Cuts #ICDH Don Hutson /14
Here is one that might be a little more obscure to some collectors but he shouldn't be. Don Hutson had 18 receiving records in the NFL when he retired. This autograph, with only 14 copies, can be purchased for under $400. There are only 75 different cards for Don Hutson in the Beckett Database.