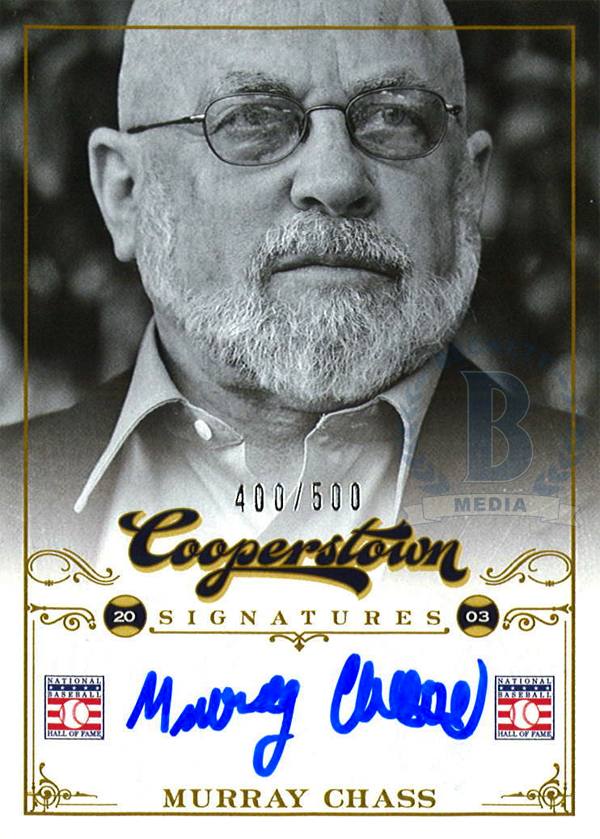 By Chris Olds | Beckett Baseball Editor
When Panini America's latest baseball card set arrives in late August, it will include many — if not all — of the residents of the National Baseball Hall of Fame in Cooperstown, N.Y.
Hence the product's name, Cooperstown.
So, while that means we'll have more cards of the pitchers and catchers of the Hall of Fame world, we'll also have cards — and autographs — for a few others.
Who? Sportswriters. Broadcasters. Umpires. Managers. General Managers.
While there may not be as much demand for the autographs of umpire Doug Harvey or Astros broadcaster Milo Hamilton — they certainly have fewer signatures out there than the Carlton Fisks and Andre Dawsons most commonly found in baseball card sets of this style.
A checklist for the product has not yet been released, but the Hall of Famers found away from the field of play, based on autograph previews, will include sportswriter Murray Chass, Royals broadcaster Denny Matthews, New York broadcaster Bob Wolff (honored by both the baseball and basketball Halls), Padres broadcaster Jerry Coleman and Hamilton to name a few.
They were winners of either the J. G. Taylor Spink (writers) or the Ford C. Frick (broadcasters) Awards, groups that include some legendary names that are a part of the game. Unfortunately, many of the most-memorable names are not around to sign autographs, but they may be included in the product. Some of the past winners include Grantland Rice, Damon Runyon, Red Smith, Jerome Holtzman, Peter Gammons, Tracy Ringolsby, Bill Madden (who selected many Rated Rookies in Donruss' earlier years), Mel Allen, Red Barber, Harry Caray, Ernie Harwell, Jack Buck, Curt Gowdy, Vin Scully, Marty Brennaman, Harry Kalas and Bob Uecker.
How many of them will make the set? We'll find out when it arrives. Look for more on Cooperstown right here on Beckett.com closer to its arrival. Look for a gallery of autographs from this one in the next issue of Beckett Baseball coming next month.
—
Update: A preliminary checklist since released by Panini shows the base set including just players, executives and managers. The autograph set is where the non-athlete honorees will be found. Among the signers on the initial checklist? Scully, Joe Garagiola, Brennaman, Uecker, Gene Elston, Jon Miller, Dave Van Horne, Tim McCarver and Gammons.
Chris Olds is the editor of Beckett Baseball magazine. Have a comment, question or idea? Send an email to him at colds@beckett.com. Follow him on Twitter by clicking here.