Guest commentary: The NBA's greatest win streak eludes cardboard
When you click on links to various merchants on this site, like eBay, and make a purchase, this can result in this site earning a commission.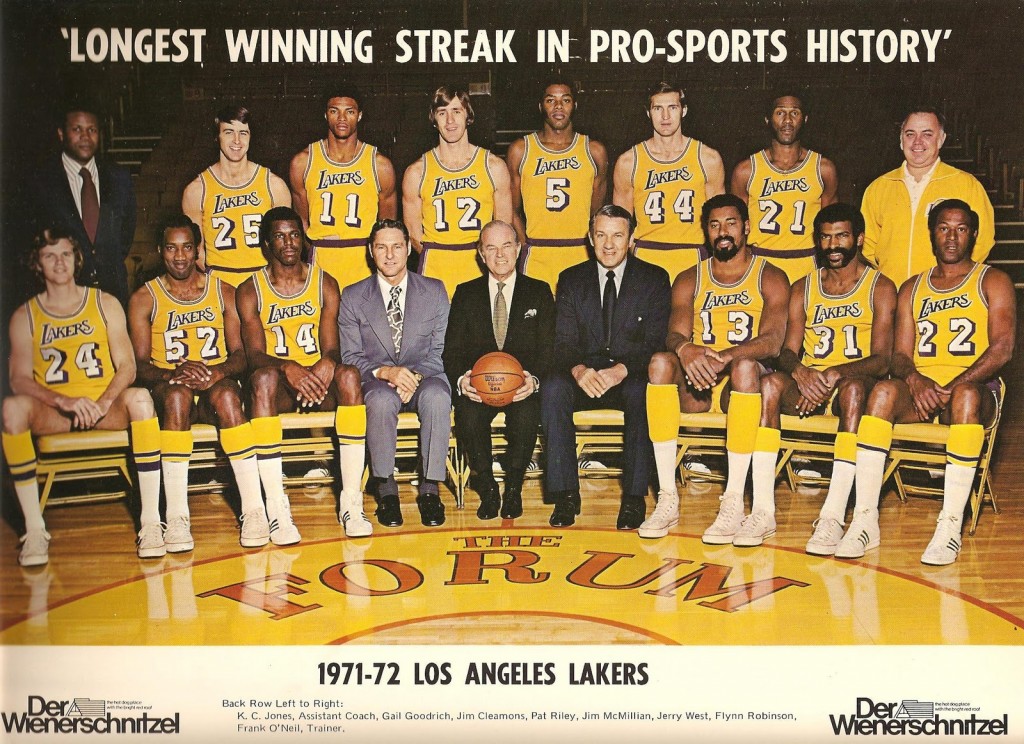 By Stan Carlberg | Guest Commentary & Opinion
In the midst of March Madness, the Miami Heat's historical run has caught the imagination of basketball fans everywhere, including college hoops fanatics. But as much as Miami's winning streak has intrigued the basketball world, if it weren't for the 1971-72 Los Angeles Lakers setting what many believe to be one of the game's unbreakable records, the Heat's current run wouldn't have as much drama or pressure to reach that magical No. 33.
As LeBron James and Co. challenge one of the game's most coveted marks — and put in a bid as one of the greatest teams ever — in researching collectibles that center around the Lakers' 33-game winning streak, I was surprised at how little memorabilia there is on the historic run.
In tracking down memorabilia, the first place I turned to was Topps' 1972-73 basketball set. The base set includes all of the key members of the 69-13 Lakers team including Jerry West, Wilt Chamberlain, Gale Goodrich, Jim McMillian and notable reserve, Pat Riley. There's also a playoff subset that captures the Lakers' first championship since moving to Los Angeles. But there's no highlight or record-breaker card that mentions the streak. Interestingly, there's also no mention of the record on the back of any of the player's cards. From a collector standpoint, one would question whether the streak ever happened at all.
Ironically, when asked about the Streak of the 1970s, most people would recall country singer Ray Stevens' zany 1974 pop hit "The Streak," which is about an entirely different type of event.
Outside of special postseason and league leader NBA cards, record breaker and highlight cards weren't introduced into Topps sets until a few years later. As a result, there's no vintage streak card for hobbyists to add to their collections. Imagine the type of demand such a card might have today.
One of the only official items produced at the time that actually mentions the streak is a 1972 Los Angeles Lakers' Der Wienerschnizel team photo. At the top of the 9×12 glossy photo, a caption reads: "LONGEST WINNING STREAK IN PRO-SPORTS HISTORY." This item can still be found on online auctions.
There also are Sports Illustrated magazines, press photos, game programs and ticket stubs available that capture moments of the Lakers' streak, but for collectors there's a lot to be desired for cardboard highlighting the original streak.
If the Heat can surpass one of the game's most coveted records and step into the conversation as one of the greatest teams in NBA history, a streak card would certainly be one of the most sought-after pieces of cardboard around, and could very well capture what may prove to be the pinnacle of LeBron's amazing career.
Do you have an idea for a guest column? Submit it to Chris Olds via email at colds@beckett.com.