Gross Bears and Bathroom Buddies make a comeback in 2016 Topps Garbage Pail Kids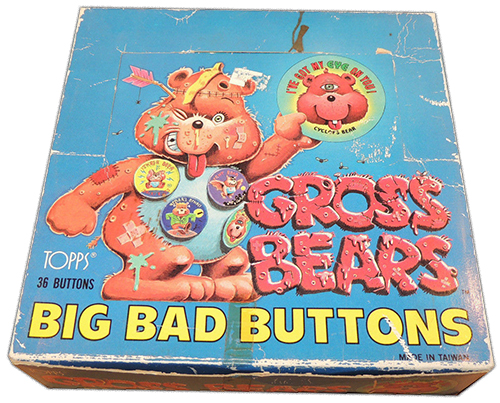 By Ryan Cracknell | Hobby Editor
2016 Garbage Pail Kids American as Apple Pie in Your Face isn't just about Garbage Pail Kids. A couple of retail exclusives bring back a pair of short-lived brands from the 1980s and '90s created in the same vein, Gross Bears and Bathroom Buddies.
Gross Bears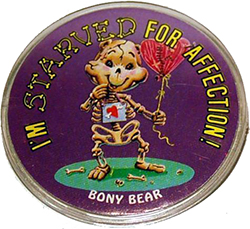 It's no secret that Garbage Pail Kids were born out of the Cabbage Patch Kids craze. In a similar — but not nearly as successful — way, Topps created Gross Bears. They were an over-the-top take on the overly optimistic and always sunshining Care Bears. Only rather than cards, Gross Bears attempted to tap into another '80s trend, buttons.
Like Garbage Pail Kids, Topps Gross Bears Big Bad Buttons debuted in 1985. Similar to Care Bears, Gross Bears are named based on traits. Except instead of Sunshine Bear and Cheer Bear we get the likes of Zit Bear, Barf Bear, B.O. Bear and Bare Bear.
In all, there are 29 buttons in the original set. They came one per pack with 36 packs in a box. They're not very common to find today, although not impossible. They don't carry a ton of value as well. Their relative obscurity and the fact that they're not cards has to be considered factors as well.
Bathroom Buddies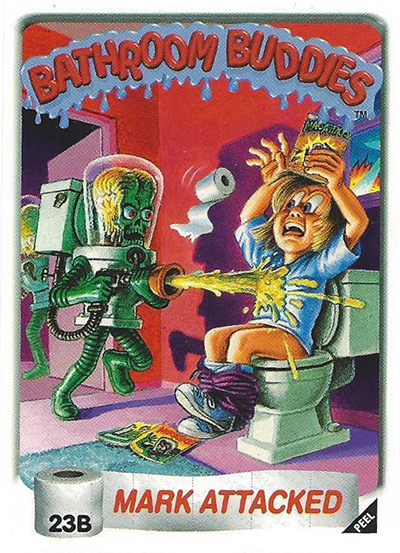 Just because Garbage Pail Kids on hiatus throughout the 1990s, that didn't mean that Topps was out of the parody game. 1996 Bathroom Buddies take a very similar approach without leaving what most would agree should be the most private room in the house. It wears its toilet humor approach with pride, offering plenty of gags involving everything you would expect from a series of cards about washrooms.
Other than a test run, Bathroom Buddies lasted just one series. It has a total of 66 cards, although there are only 33 different images. Each has A/B variants like Garbage Pail Kids.
The re-released Gross Bears and Bathroom Buddies in 2016 Topps Garbage Pail Kids Apple Pie are both six-card sets. Yes, the bears have been brought over to the card side although they keep their circular images. Of the six Gross Bears sticker cards, five have origins in the 1985 series. Only one, Blender Bear, is new.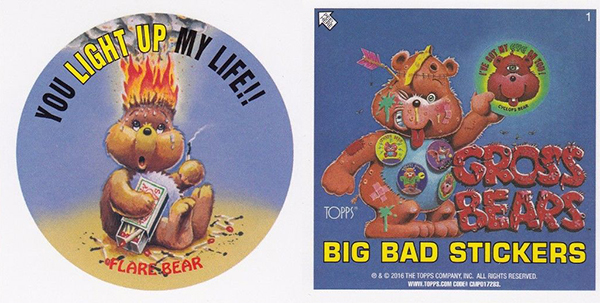 The Bathroom Buddies inserts use three pieces of previously unpublished art. Once again, they take the A/B approach with two different names for each card.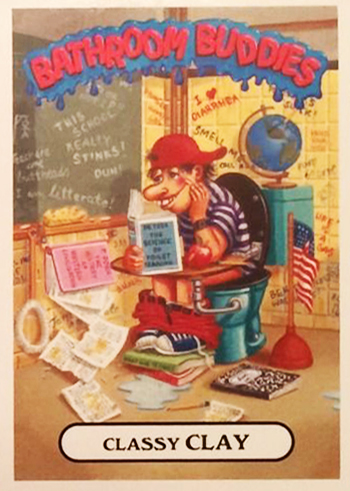 Like a lot of retail exclusives, these are only found in certain types of configurations. Bathroom Buddies are in blasters Gross Bears come three per 40-card value box.
Comments? Questions? Contact Ryan Cracknell on Twitter @tradercracks.