Gretzky collector pulls massive hit from 2012-13 The Cup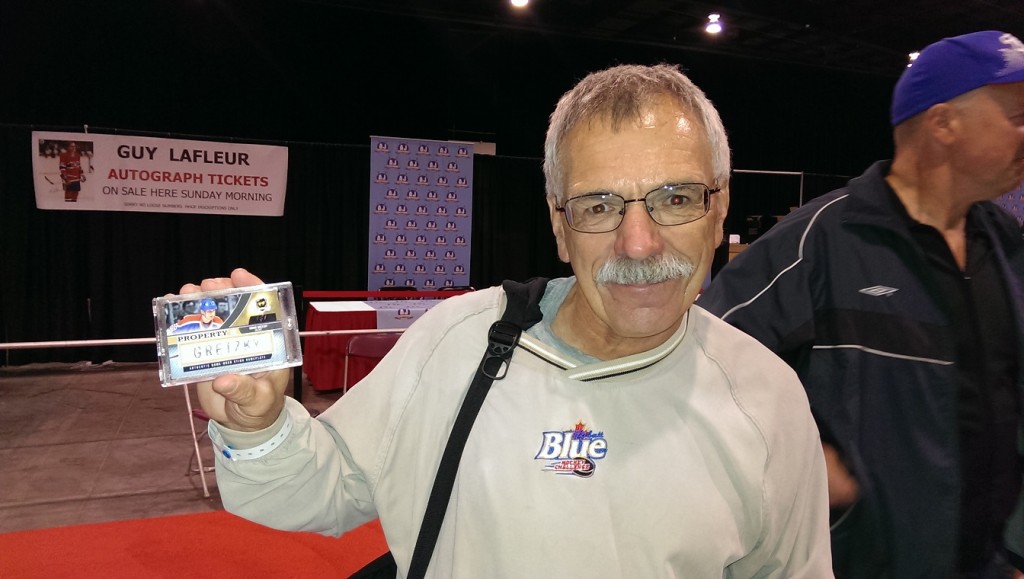 By Susan Lulgjuraj | Beckett Hockey Editor
Norm Fournier and some friends hang out often at Dave's Sports Cards in Cornwall, Ontario.
A bunch of guys just talking sports and having a few laughs.
Remember those days when card shops were the place to hang out?
Of course, you can't just stand around. Part of the fun is opening boxes just to see what's hiding on the shelves. Fournier did just that when he picked up a tin of 2012-13 The Cup.
Then he froze.
Fournier is a big Wayne Gretzky collector and he just pulled one of the top cards out of Upper Deck's product – a 'Property Of' Game Used Stick with Gretzky's name stamped on it.
"I used to run marathons," Fournier said. "At that moment I felt like I had run a marathon in two and a half hours."
It's surely a big hit. A Gretzky Property Of from 2007-08 The Cup is up on eBay for a Buy It Now price of $17,999. In September, one from 2006-07 The Cup sold for $3,050.
Fournier showed off his hit at the 2013 Sportscard & Memorabilia Expo in Toronto in November. He brought it around to different dealers and listened to offers, but Fournier still doesn't know what he is going to do with the card.
It's a big hit, especially for a Gretzky collector. You don't always need to sell the best hits out of a product, but at least there are options.
In this case, Fournier is just trying to figure out how he wants to celebrate his marathon win.
Susan Lulgjuraj is an editor at Beckett Media. You can email her here with questions, comments or ideas. Follow her on Twitter here. Follow Beckett Media on Facebook and Twitter.