Gordie Howe deal takes Panini to the next level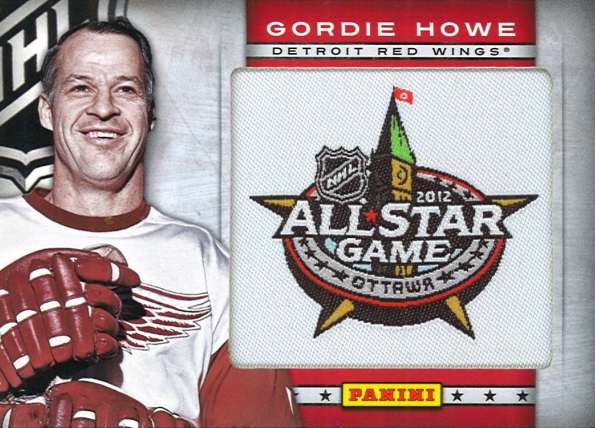 By Andrew Tolentino | Hockey Editor | Commentary
Panini America's hockey cards just got an instant makeover. Courtesy of Gordie Howe.
For the Texas-based card maker, now in its second year  with an NHL license, this is a real game changer — maybe even game-changier  than video cards.  Since the company started producing hockey cards, one of the biggest  questions among collectors has been something along the lines of, "Okay, the young stars are great, but where are all the autographs and memorabilia from legendary, like Gordie Howe legendary players?"
As of today, that question has been answered.
Panini had previously announced that Mr. Hockey himself is slated to appear at the company's booth in Ottawa for the 2012 NHL All-Star Weekend festivities. Pretty cool, if you happen to be in Ottawa with tickets to the event, but the follow-up is important to the whole hobby world.
Panini America CEO Mark Warsop summed it up. "All of our hockey products will benefit greatly from his presence and we can't wait to share Howe's legacy and his greatness with fans and collectors across North America."
To say that the company will benefit from its new, multi-year trading card contract with Howe is almost an understatement. One consistent criticism of its otherwise outstanding Dominion product involved the lack of legends. In comparison to Upper Deck's The Cup, Dominion was aesthetically there,  but lacking something (or somebody) on the checklist. Now with Howe, the 2011-12 Dominion line — among other Panini brands — is bound  to see a spike in popularity.
This year, the legend is also set to appear in In The Game's product lineup, but how does Howe feel about joining the Panini America family?
"I am truly honored to be a part of the Panini America family and I can't wait to see all of the exciting things they have planned for my trading cards," Howe said in a company press release. " Panini America is a pioneering company when it comes to innovation — from their HRX Video Trading Cards to their real 14-karat gold cards. They will no doubt show me a new light and I can't wait to see it."
Considering, oh, I don't know, his four Stanley Cup championships, his six Art Ross Trophies, his six Hart Trophies  AND THE FACT THAT HE IS MR. FREAKING HOCKEY,  collectors will be looking forward to seeing what Panini does with his trading cards as well.