Good luck finishing your 2015 IDW Star Wars Micro Comic trading card set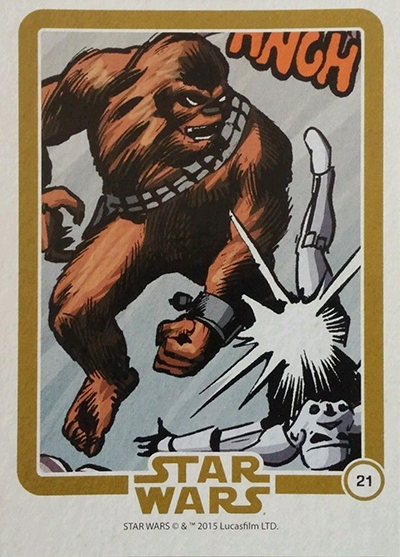 By Ryan Cracknell | Hobby Editor
If you've taken a wander through a toy store or card aisle in the past couple of years, you've likely encountered IDW's micro comics. They're a packaged deal that comes with a small comic (usually a reprint) and extras like stickers and posters. The 2015 IDW Star Wars Micro Comic packs include trading cards.
However, if you're aiming to complete the set, it's far from easy. In fact, it might be one of the hardest sets of Star Wars trading cards to ever put together.
Running between $3 and $5, the 2015 IDW Star Micro Comic packs aren't overly expensive for what you get. Each has a small comic, a 3-D poster, 3-D glasses and one card. There are six different comics reprinting the first six Marvel issues from back in 1977. The posters reprint the first six covers.
The cards feature art from the same comics and are printed on cardboard stock. The backs work as a puzzle that forms the memorable cover from the first comic. It's worth noting that these are some of the only Star Wars trading cards released in North America that don't mention Topps.
A little bit of quick math shows that, with perfect collation, you'll have six of each comic and poster before you have a chance of finishing off a set of cards. Some collectors are busting boxes of 24 Star Wars Micro Comic packs and discovering that the distribution is far from perfect. They're ending up with plenty of duplicate cards.
Now that $3 to $5 per pack starts to add up and it shows just how tough putting together a set of cards can be.
The product isn't particularly rare. But it's not the type of thing that is widely broken and made available on the secondary market. Some singles can be found online, but not a lot.
2015 IDW Star Wars Micro Comic Trading Cards Checklist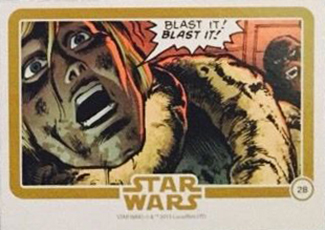 1 Landspeeder
2 Princess Leia
3 R2-D2
4 "I find your lack of faith disturbing."
5 Luke, C-3PO
6 Tusken Raider, Bantha
7 Princess Leia
8 Millenium Falcon
9 Chewbacca
10 Obi-Wan Kenobi
11 Greedo
12 Han Solo
13 Millennium Falcon
14 Luke
15 Luke
16 Remote
17 Luke
18 Millenium Falcon
19 Stormtrooper
20 Death Star, Millennium Falcon
21 Chewbacca
22 Chewbacca
23 Stormtrooper
24 Stormtrooper
25 Darth Vader
26 C-3PO, R2-D2
27 Imperial Officer
28 "Blast it! Blast it!"
29 ""Blast it? I can't even see it!"
30 TIE Fighter Pilot
31 TIE Fighters
32 Darth Vader
33 TIE Fighter
34 X-Wings
35 TIE Fighters
36 "Here they come!"