Goldin Auctions says Jordan family won't dispute UNC items
Goldin Auctions received attention recently when it announced four pieces of unique Michael Jordan memorabilia were up for auction.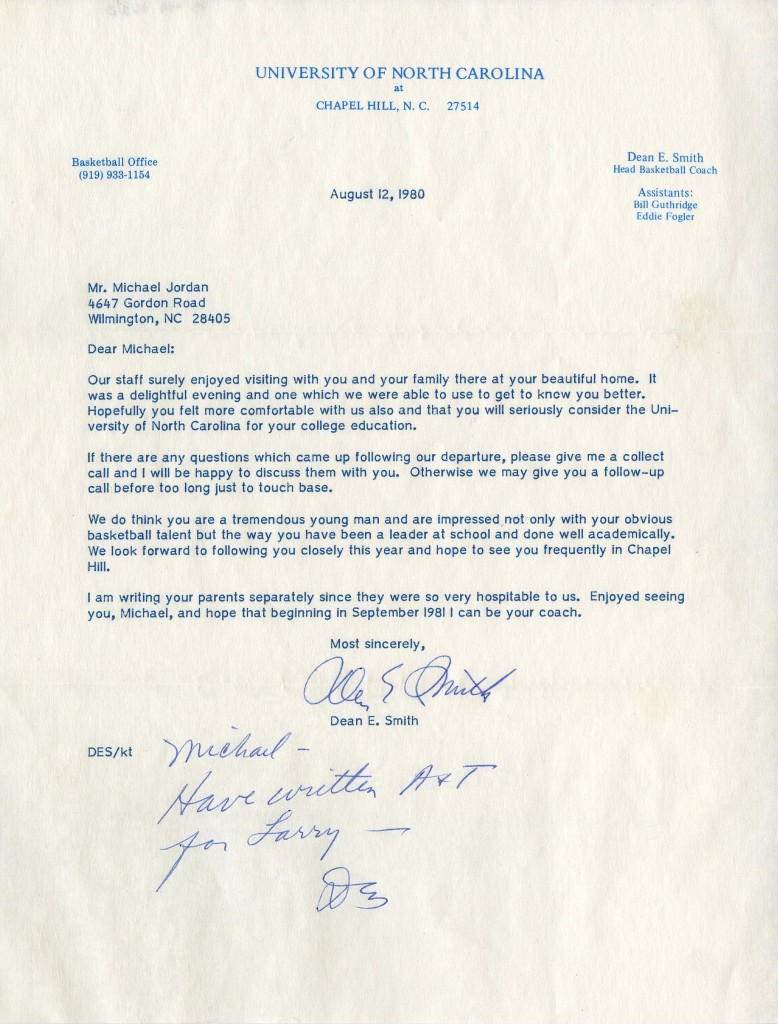 These pieces included a recruiting letter from University of North Carolina head coach Dean Smith; a recruiting letter from assistant coach Bill Guthridge (both from 1980); Jordan's UNC diploma; and Jordan's UNC undergraduate academic record.
However, just days after the announcement, Jordan's mother Deloris Jordan told ESPN the items were not legitimate because she had the original documents in storage.
However, Goldin Auctions announced today that it has taken steps to ensure that the "clear and undisputed title will pass to the winning bidder of each of the four UNC Michael Jordan items, including confirmation that neither Michael Jordan nor his family will dispute said title."
The auctions end Feb. 7. Both Jordan's diploma and letter from Dean Smith have surpassed $10,000 in bidding.
"We are pleased to continue to stand by the description of the four Jordan UNC items as they appear in our online catalog," said Ken Goldin, Founder of Goldin Auctions. "We take meticulous care to ensure that every item we offer is authentic and that our consigners have legal ownership of the items."
Along with the original authentication from PSA/DNA, Goldin also received authentication of the autographs from JSA Authentication and SGC.
In addition, Goldin Auctions examined the paper of the letters and determined they are printed on Fox River Bond 25-percent cotton paper, which was popular in 1980. Both letters retain the original fold lines from being placed in an envelope and typical wear and tear of a 34-year-old document.
The Dean Smith letter contains a handwritten note and a slight tearing of the ink that would only appear on an original and the Guthridge letter has a 'slice' at the bottom of the letter. This type of cut would have been created by someone using a letter opener 34 years ago and unfortunately slicing off the very bottom portion of the stationary. Therefore, the letter itself does not have a straight edge at the bottom, but a curved edge to the paper – something that would be nearly impossible to replicate.