Goalie gallery: Leather Larceny inserts from 2010-11 Playoff Contenders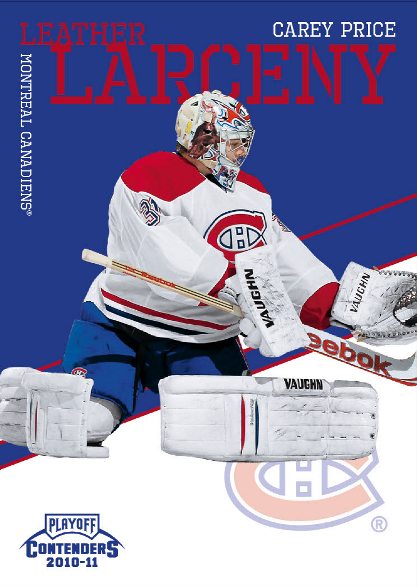 By Andrew Tolentino | Hockey Editor
There's no better time than the NHL playoffs for netminder-minded collectors to watch their masked heroes in action.
While pad-clad lads like Carey Price, Roberto Luongo and Jimmy Howard — cover boys for the next issue of Beckett Hockey — are busy being overprotective in the postseason, Panini America is out committing Leather Larceny.
To answer some obvious questions…
Is Leather Larceny a crime, punishable by law? No.
What then is Leather Larceny? An 18-card insert set printed on laminated leather stock.
When and where can I find it? Slated to hit shelves in late-April, these puck-stopper tributes can be found inside 2010-11 Playoff Contenders Hockey.
Are there autographed versions? Absolutely. Aside from the one-per-box base versions, autographed parallels limited to 50 or less are also up for grabs.
When can I see them? Just after the jump, of course.