Glenallen Hill + Spider = Baseball Card Awesomeness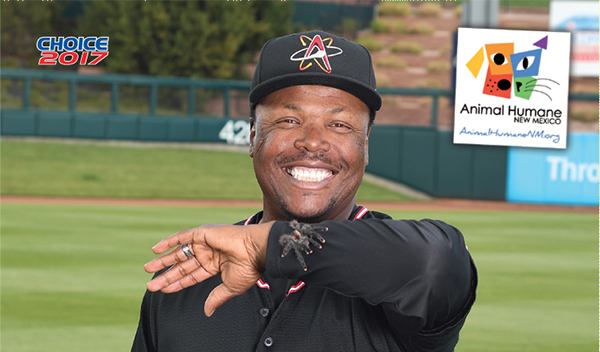 By Ryan Cracknell | Hobby Editor
Baseball has seen its share of strange injuries over the years. And then there's the nightmare situation Glenallen Hill got into — literally.
In 1990 while with the Toronto Blue Jays, he was deep in slumber when, in his unconscious state, he began to be chased by spiders. It was one of those dreams that feel so real that you wake up in  a mixed-up reality.
So when one's chased by spiders, you run.
And that's what Hill did — until he fell through a glass table, hurt his leg, was put on the disabled list and etched his place in weird baseball history.
That injury plus his admission for arachnophobia have made Hill synonymous with spiders. It's what more people probably remember the former outfielder for more than anything else.
Finally, more than 25-years later, Hill was able to move on.
Now a manager with the Albuquerque Isotopes, Colorado's Triple-A affiliate, Allen was paired with a giant, hairy tarantula for an early-April photoshoot.
The time has come to finally put "that" myth to rest as #ABQTopes manager Glenallen Hill poses with a new friend. ?? pic.twitter.com/hO6spfdb3e

— Albuquerque Isotopes (@ABQTopes) April 3, 2017
You know something that goes great with photos taken on a baseball field? Baseball cards. And that's what became of one of those photos. It's being used on Allen's 2017 Albuquerque Isotopes Choice card.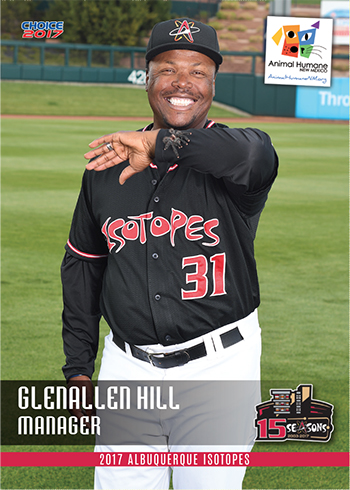 It's part of a team set that were handed out to fans at their May 23 game. A total of 3,000 sets were available. Hill is the only person in the set with a spider, but there is an animal theme that runs through much of the checklist. That's because the promotion was sponsored by Animal Humane New Mexico. Puppies are everywhere.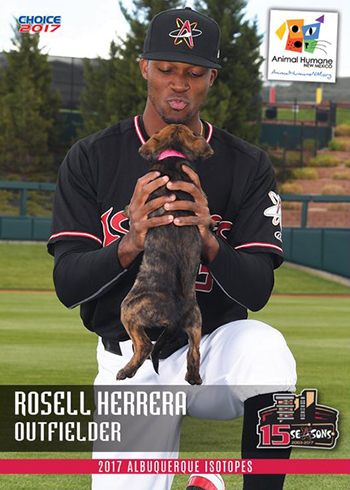 Sometimes it's more than one.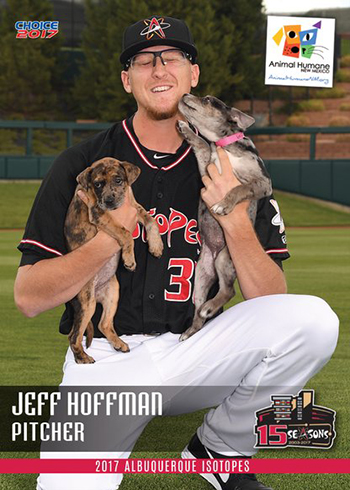 If you're looking for one of the 2017 Albuquerque Isotopes Choice sets, the team has them available on their website for $10. The set comes with 33 cards.

Tonight, the first 3,000 fans to enter Isotopes Park will go home with the 2017 #ABQTopes team card set, courtesy of @AnimalHumaneNM! pic.twitter.com/QQascpOeqD — Albuquerque Isotopes (@ABQTopes) May 23, 2017
Now if only Peter Brady could get the same sort of redemption for his run-in with a tarantula back when he was on his cursed Hawaiian vacation.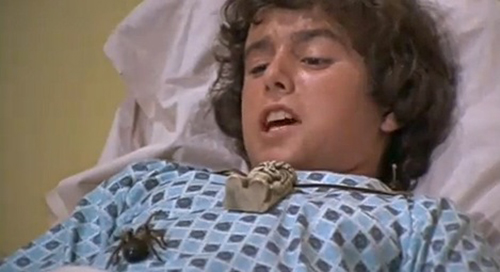 Comments? Questions? Contact Ryan Cracknell on Twitter @tradercracks.