Girl Power: A Super Collection of Heroines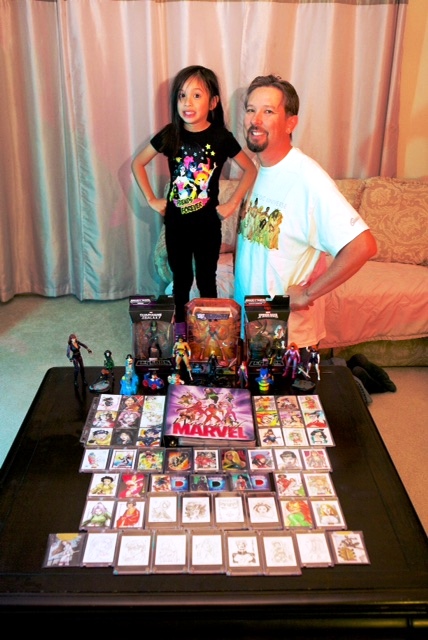 By Eric Norton | Beckett Analyst
During Beckett's inaugural Month of Marvel, Kevin, a collector from Califorina, approached us with a an impressive collection of  heroines featured on cardboard.  It's a collection that he started on his own in 1998, but when his daughter arrived to this world it gave the direction and purpose of  the collection a whole new meaning. Now, Kevin and Mimi collect together and featured below are just a few of the over 700 skecth cards, numbered inserts, printing plates, materials, autographs, and limited inserts of female characters from the Marvel and DC universes.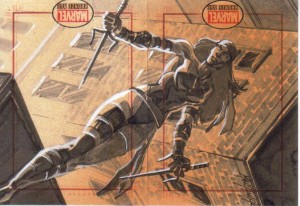 Q: So why the heroines from the comic universes?
A: I wanted to be able to share the joy of card collecting with my daughter while showing her super heroines are just as dynamic as their male counterparts. I believed that those strong female comic card images would help empower her and balance out the world of princesses and dolls that is presented to young girls.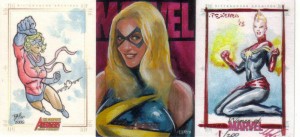 Q: Which set started the collection?
A: Fortunately, just before I found out that we were having our little girl, Rittenhouse released the first "Women of Marvel" series, so the premiums that were associated with many of the female sketch cards from 1998 to 2008 lessened. This has helped me acquire a nice variety of super heroines – 90 different Marvel female characters on pack-inserted sketch cards. To help put that in perspective, the 3 Marvel female-centric sets that Rittenhouse has produced – 2008 Women of Marvel, 2011 Danger Divas, and 2013 Women of Marvel – has had 131 different characters featured on base cards.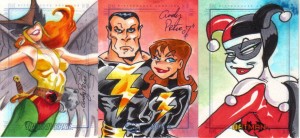 Q: How many charcters can you account for in your collection?
A: My overall Marvel and DC super lady sketch card collection has 105 different female characters spread over 575 pack-inserted sketch cards. Considering that the pack-pulled sketch cards are essentially 1/1 mini-works of art, I think it's an impressive feat because of the variety of collectors vying for them: artist, character, genre, set, and/or theme collectors.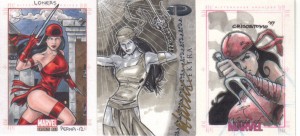 Q: Is there a particular card that stands out from your collection, either before Mimi was born or after?
A: Yes, our 1998 Marvel Creator's Collection '98 Spider-Girl Sketchagraph. Since this character debuted in 1998, not many artists may  have been aware of this character to include her as a sketch card. It wasn't until 2008 Women of Marvel did she appear on more licensed sketch card products. There are many other examples of a character's first sketch card that could be their "rookie card", but this one is notable to me since it coincides with the comic book debut year.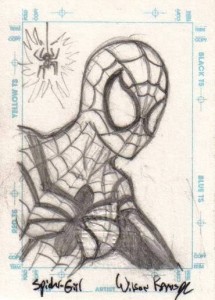 Q: What has been the best part of collecting with your daughter?
A: What makes this collection truly special for me is the time that we have together as a family "hunting" for these small treasures at card and comic shops, shows, retail stores, and trading with fellow collectors. My daughter is now pretty well versed with most of the super heroes of Marvel and DC Comics (and their alter egos), so she helps me pick out the next sketch card, action figure, or insert card to add to the collection. Most of the time, she picks out the characters that she identifies with – super hero ladies – so the collection that I started because of my daughter still grows by leaps and bounds … just like my little Supergirl.
Wow, Kevin and Mimi's collection really is something to see, but what's more impressive is that he has found a postive way to connect with his daughter that will empower her in the future and instill a life long passion for the hobby as well. Take a look below at more of their collection, and besure to check out the Beckett MarketPlace for all of your Marvel and DC collecting needs, as well.