Giannis Antetokounmpo: NBA (and Hobby) MVP? – Beckett Pricing Insider
Milwaukee Bucks forward Giannis Antetokounmpo is widely considered the frontrunner for this season's NBA MVP award. He also may be the current hobby MVP as his ever-increasing popularity in the basketball card market is mirroring his on-the-court success.
Simply put, his card prices can't be stopped at the moment.
Here are three recent sales for consideration:
1. 2013-14 Panini Prizm #290 Giannis Antetokounmpo RC – $300
With $300-plus raw sales currently commonplace in the market, Antetokounmpo's most popular Rookie Card is the basketball card equivalent of a freight train. At this time last year, the Bucks were sitting at home after a first round playoff exit, and card prices for his Prizm RC were trending on the high side of the $30-$80 range. Today, Giannis has propelled Milwaukee into the Eastern Conference Finals, and the Prizm card has quadrupled in value – with no sign of slowing down. One can only speculate on the potential value should the Bucks make it to the NBA Finals or (gulp) win the whole thing.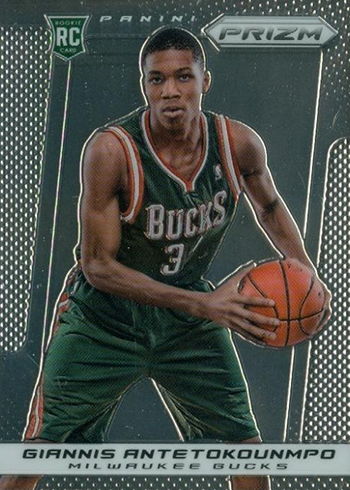 2. 2013-14 Select Prizms Green #178 Giannis Antetokounmpo /5 PSA 10 – $6,000
The Prizm-like Select RC is yet another of Antetokounmpo's first-year offerings experiencing a serious price boost. Among the tough-to-pull parallels are the scarce, rarely seen Green Prizms, serial numbered to just 5 – only the 1/1 Select Prizms Black are harder to come by.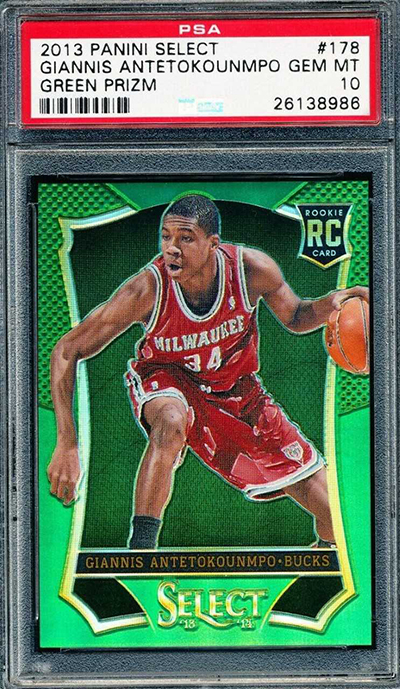 3. 2013-14 Immaculate Collection #131 Giannis Antetokounmpo JSY AU RC /99 BGS 9.5 – $12,350
One of Antetokounmpo's most valuable cards, his Immaculate Collection Rookie sports the collector appealing characteristics of on-card autograph, jersey patch, and low print run. While scarce at just 99 copies, many more Immaculate Collection rookie cards have shown up in the marketplace compared to the similar, but more valuable, National Treasures RPA, which has become virtually a ghost.