Getting "Up Close" with 2015 Bowman baseball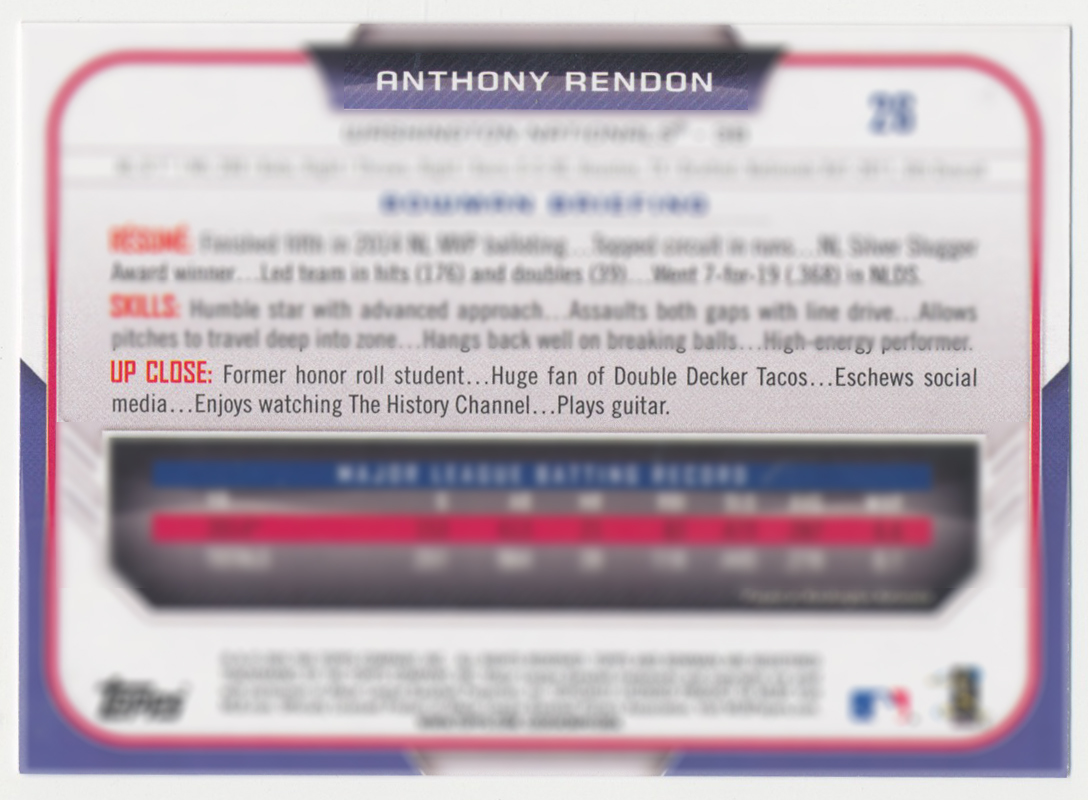 By Chris Olds | Beckett Baseball Editor | Commentary
Tear into a pack of the recently released 2015 Bowman baseball cards from Topps, and I'll guarantee you one thing.
You might not get your favorite player. You might not get rich. You might not pull an autograph. But one thing that's for sure when you open a pack — no matter how knowledgeable you are about the game you are or how many years you've collected cards — is that you'll learn something.
No, seriously, you will learn something.
Get "up close" with card No. 26 and you'll learn that Washington Nationals infielder Anthony Rendon is a "huge fan of Double Decker Tacos." Not only that, but he "eschews social media," likes The History Channel and plays guitar.  You can see for yourself above — and he's hardly alone with some of the unusual things found on his card.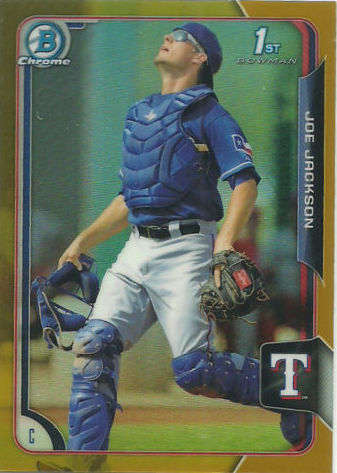 Cy Young-winning Cleveland Indians pitcher Corey Kluber is "adept at cooking chili" — hey, it says so on card No. 80.
Per card No. 20, Paul Goldschmidt, one of the National League's top young sluggers the last few years, is a burger lover. Also on the food front, his teammate Jake Lamb (No. 149) "enjoys bagels, donuts and coffee." Meanwhile, John Singleton (card 66)  of the Astros "enjoys cheesy scrambled eggs" and dubs himself a fan of Nipsey Hussle and Wiz Khalifa. 
Nationals pitcher Doug Fister, according to card No. 109, gave away coffee to his Twitter followers as a 2014 Christmas gift, while future Twins slugger Kennys Vargas (No. 34) "does not eat yogurt or drink milk" but "enjoys chicken and steak." Former Angel and new Ranger Josh Hamilton, on card No. 62, "enjoys Fruity Pebbles" while wearing his size-19 shoes.
Twins pitcher Trevor May (No. 140) leads a simpler culinary existence as just a coffee lover and an avid reader while "enjoying video games and fantasy football." Blue Jays veteran Jose Reyes (No. 17) is a "lover of both seafood and peanut butter."
Seriously.
Sometimes, there are simpler ways the cards get us up close and tell us plenty. According to card No. 139, Nationals outfielder Michael Taylor, a son of a U.S. Army officer, "calls coaches and club officials 'Sir.'" Meanwhile, Dodgers veteran Andre Ethier (No. 68) "hosted a yoga session for fans," while CC Sabathia's 400,000 Twitter followers are noted along with his 2014 children's book and a fantasy football habit on card No. 93.
Every card in the brand seemingly has a blurb that's worthy of admiration for its trivia or its simplicity. Red Sox slugger Mike Napoli (No. 117) is a dog-lover and a fan of A Christmas Story. Diamondbacks pitcher Archie Bradley (No. 37) "maintains a wristwatch collection."
Even old-timers we've seen on cards for years get a moment — Marquis Grissom, a former Montreal Expo in 1990 (one of a few 1990 rookies revisited in one insert set) — has a piece of trivia this collecting veteran had never heard before — even with hundreds of Grissom cards in my pasy. "Was named after the Mercury Marquis automobile," reads his card.
Prospects get in on the action, too. Orioles pitcher Hunter Harvey? He "participated in a charity poker tournament in December 2014." Reds pitcher Nick Travieso is a bass-fishing enthusiast and enjoys watching movies on The Golf Channel. (They do that? Besides Tin Cup?)
Sometimes, the factoids just get random. Teoscar Hernandez's card states "Pictured with a ram and a dog-riding monkey in an MiLB.com photo." Good to know.
Indians hopeful Trevor Frank isn't all that unusual — he "loves Mexican food" and enjoys Family Guy.
The coolest one of them all, though? That might be the card of Texas Rangers prospect Joe Jackson. The back of card No. BCP120 says this: "Distant relative of 'Shoeless' Joe Jackson whose 1917 World Series ring he wore on day he signed with Rangers."
Those are highlights from just a few cards and there are plenty more waiting to be found. All you have to do is slow down when you're shredding packs looking for Superfractors or autographs and flip a card over and get "up close" for a new discovery.
You never know what you'll find out.
Chris Olds is the editor of Beckett Baseball and Beckett Sports Card Monthly magazines. Have a comment, question or idea? Send an email to him at colds@beckett.com. Follow him on Twitter @chrisolds2009.