Get ready … October is Beckett Customer Appreciation Month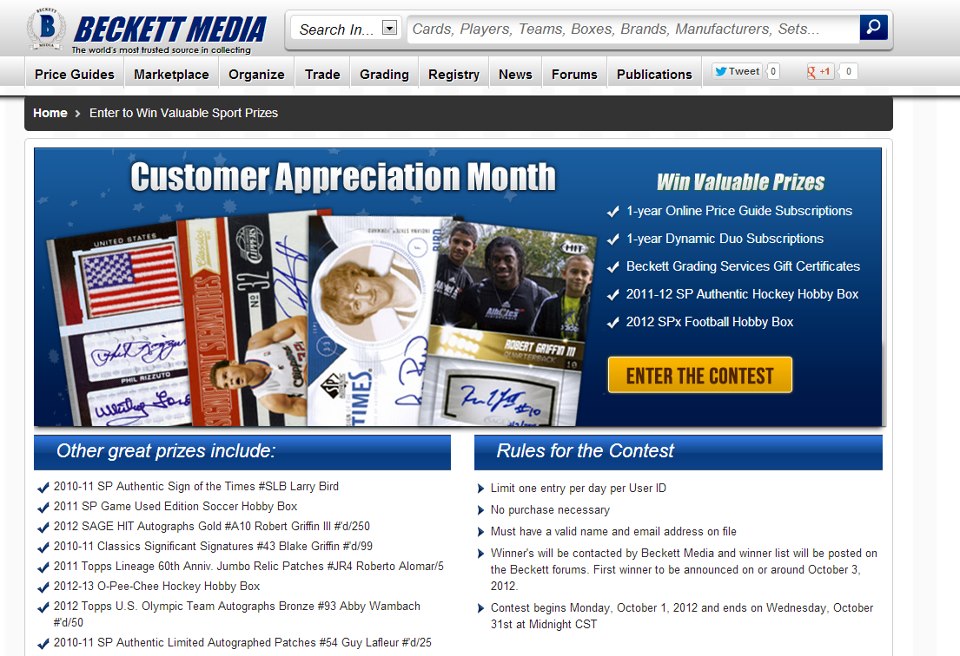 October is a fun time with Halloween and the baseball playoffs. Football races take shape and basketball and hockey (hopefully) get their starts.
But there is another reason to enjoy October – Beckett Customer Appreciation Month.
Every day in October, Beckett will give away a prize to members of the Beckett community.
Prizes include subscriptions, autograph cards, Beckett Grading Services gift certificates and much, much more for a total of 31 prizes.
In order to win, you have to create an account at Beckett.com. Then, starting October 1 you will visit the contest page and click a button to enter. It's that simple.
The website to enter will be announced shortly. Only one entry per user allowed per day. Daily winners will be announced in a forum post.
So what exactly can you win?
Let's look at the first five days of prizes.
Oct. 1 – Dynamic Duo Subscription (includes one year of magazine and an Online Price Guide Subscription to the sport of your choice)
Oct. 2 – 2012 Topps Pro Debut Baseball Hobby Box
Oct. 3 – 2010-11 SP Authentic Signs of the Times LARRY BIRD autograph
Oct. 4 – 2012 Essential Elvis Autographs Silver MARY TYLER MOORE
Oct. 5 – 2012 Topps U.S. Olympic Team Autographs Bronze ABBY WAMBACH
Other prizes include $50 or $75 BGS gift certificates, Ryne Sandberg auto card, 2011-12 SP Authentic Hockey hobby box and a 2011 Leaf Muhammad Ali printing plate.
So, let the countdown begin to October where there is a chance to win a prize every day.