2016-17 In The Game Stickwork Hockey Details
The hockey stick can be a thing of beauty when pieces of it appear in a card, and collectors have long coveted shards from the tools used by their heroes to score and even prevent goals. Several years ago, a line dedicated to these pieces of lumber was launched and 2016-17 In The Game Stickwork Hockey from Leaf Trading Cards looks to build on that concept.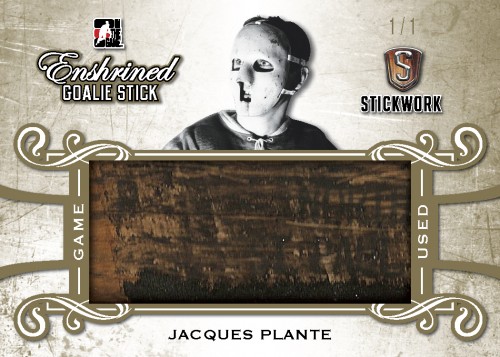 With four game-used stick cards in each box, Leaf is drawing from an impressive inventory which represents every era of the game. Naturally, there will be a heavy focus on vintage players – with up to eight of them per card. It is pegged for an early May release, which is just in time for the Spring 2017 Sportcard & Memorabilia Expo.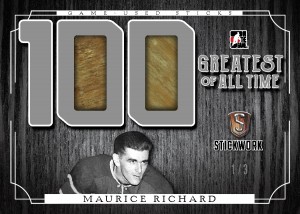 Game-Used Stick Cards
Many themes from previous releases return in 2016-17 In The Game Stickwork Hockey – some of which go back to the original 2013-14 release and last year's revival by Leaf. The action starts with the big swatches found in Game-Used Stick, which have a counterpart called Game-Used Goalie Stick.
Legendary players that are members of the Hockey Hall of Fame are on display in Enshrined Stick and Enshrined Goalie Stick, but the set that collectors are potentially going to go crazy for is called 100 Greatest of All-Time. With a checklist that draws from the NHL's recently-released listing of its top 100 talents, it also has a strong design and two stick pieces.
Decade Leaders are four-piece cards and combine talents which rank among the best in certain statistical categories over a 10-year period. Stick Rack 4 and Vintage Stick Rack 4 are a bit more loosely-themed, but have the potential for strong combinations.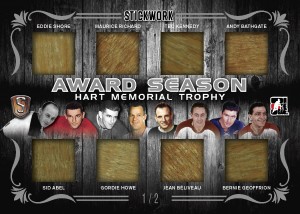 The eight-piece memorabilia cards that draw a lot of interest from those breaking Leaf products like 2016-17 In The Game Stickwork Hockey come in several themes. Enshrined 8 combines Hall of Famers either in a curated grouping or by team in the Franchise edition. Award Season puts together players that have won the same trophy. Tape to Twine is a new set for this season and will contain the prized tape pieces from eight different game-used sticks.
Finally, there are some elite-level cards which will be highly sought-after. Nameplates contains a large stick piece bearing the individual player's stamp – usually their last name. Lumbergraphs is all about a player's autograph that was signed on a game-used stick in the past. These cards tend to be one-of-one treasures.
Stephen Laroche can be found on Twitter @Stephen_Laroche.