2017 Panini Torque Racing Checklist and Details
The brand that helped launch a new age of premium NASCAR cards is back for a second straight year with 2017 Panini Torque Racing.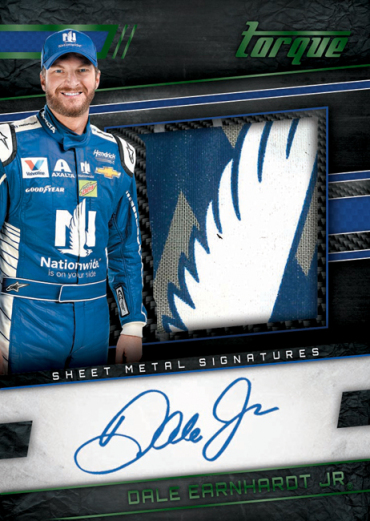 With at least one hit in every pack, expect to find an average of three autographs and two memorabilia cards from your favorite drivers inside each five-pack hobby box.
Base Set and Parallels
The 2017 Panini Torque Racing checklist features a manageable 100 cards.
Each pack contains a parallel card. These come in more than a dozen styles. Gold are the only parallels that aren't numbered while Blue cards have 150 copies each. The rest are numbered to 100 or less.
Inserts
2017 Panini Torque Racing has Clear Vision inserts, a concept utilized in other sports. These return for another season and collectors can expect to find one of these per box. Besides regular Clear Vision cards, there are several similar acetate offshoots like Superstar Vision and Visions of Greatness. All of the "Vision" inserts have five parallel colors numbered to 149 or less.
The product has several other inserts as well.

Autographs and Memorabilia
Every autograph in 2017 Panini Torque Racing is going to be on-card. Some of these are on memorabilia cards as well. Some collections of autographed memorabilia cards have been announced. Jumbo Firesuit Signatures, Silhouettes Firesuit Signature, and Silhouettes Sheet Metal Signatures will have large swatches to go along with the ink. Combo Materials Signatures contain two pieces of memorabilia connected to the driver. All four sets several levels of parallels which include base, Blue (/99 or less), Red (/49 or less), Green (/25 or less), and Purple (/10 or less).
Panini America has stated that collectors should find an autograph of at least one top-five driver inside the eight-box inner cases.
As for conventional memorabilia cards, Torque has plenty of them. Quad Materials has four pieces of race-related items that includes everything from sheet metal to gloves, shoes, tires, and more. Metal Materials focuses on the cars themselves while Raced Relics is all about items connected to actual NASCAR races. Pairings Materials turns the focus on teammates and presents a memorabilia piece for each. All of these sets have the same types of parallels as the autographs and are limited to similar quantities.
Perhaps one of the most exciting collections to find in packs of Torque are the Prime Associate Sponsor cards. With a jumbo patch that has tons of character, these are one-of-ones.
2017 Panini Torque Racing at a glance:
Packs per box: 5
Cards per pack: 10
Boxes per case: 16 (two eight-box inner cases)
Set size: 100 cards
Release date: June 28, 2017
What to expect in a hobby box:
– Three autographs
– Two memorabilia cards
– One Clear Vision insert
– Five parallels
2017 Panini Torque Racing Checklist
Base Set
Autographs
Memorabilia Cards
Inserts
Stephen Laroche can be found on Twitter @Stephen_Laroche.