2016-17 Leaf Masked Men Hockey Details
Leaf Trading Cards is adding another new hockey product to its lineup this season and goalie collectors are sure to be interested in the debut of 2016-17 Leaf Masked Men Hockey.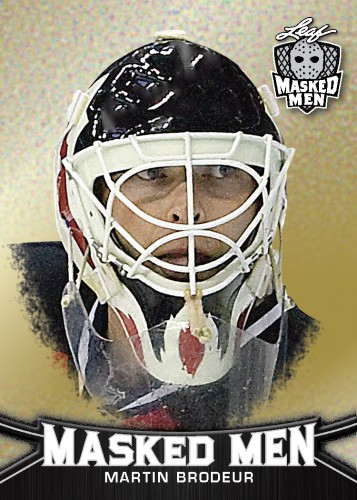 With three autograph or memorabilia hits per pack along with three Leaf Metal cards, there is a real focus on the greats for the past from Georges Vezina to Martin Brodeur.

Inserts
Those busting packs of 2016-17 Leaf Masked Men are about to get up close and personal with a strong selection of netminders and their masks. Printed on metallic stock, they appear to be created in the spirit of The Mask inserts from Between The Pipes releases produced in the past by In The Game. Each card has a whopping nine color variations to track down, making for a real challenge for collectors to get them all.

Autographs
Goalie Graphs turn the spotlight on several generations of keepers ranging from old time legends like Johnny Bower to modern icons like Mike Richter and Patrick Roy. For those looking for an even bigger hit, Signature Goalies should have plenty of appeal due to the addition of a piece of game-used memorabilia.

Memorabilia
Speaking of memorabilia, Leaf has an incredible pool to draw from when it comes to pieces from goalies. Among the highlights of 2016-17 Leaf Masked Men are collections such as Vezina Winner, Goals Against, Shutout, and Goalie Gear, but there are also some stronger potential pulls. Stack The Pads has two pieces of game-used pad while Vintage Goalies turns the focus to the pioneers of the crease. Jumbo Pad should be quite popular due to the over-sized pieces, but Goalie Legacy 6 will combine a sextet of net guardians together.
2016-17 Leaf Masked Men at a glance:
Packs per box:
Cards per pack: 6
Boxes per case:
Set size: TBD cards
Release date: Early February, 2017
What to expect in a hobby box:
– Three autograph or memorabilia cards
– Three Leaf Metal cards
Stephen Laroche can be found on Twitter @Stephen_Laroche.