Gem Mint Jeremy Lin for the win?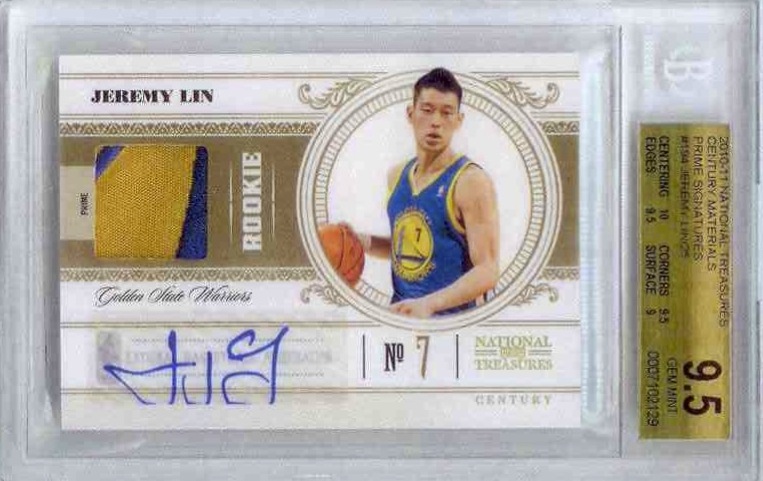 By Andrew Tolentino | BSCM Editor
The New York City arm of Beckett Grading Services just slabbed a piece of Linsanity.
After landing the card, a Jeremy Lin 2010-11 National Treasures Century Materials Prime Signatures numbered to 25, collector Yair Rozmaryn turned it over to the New York office with the same hope that every grading customer has. In his case, the grade was high and Rozmaryn was soon holding a gem mint BGS 9.5 Lin (for the win).
Currently sitting in a safety deposit box, the card just went live in an eBay auction.
With the help of BGS New York's Charles Stabile, we connected with the 29-year-old collector to pick his brain about the phenomenon and what he's planning on doing with his Linsanely hot Rookie Card.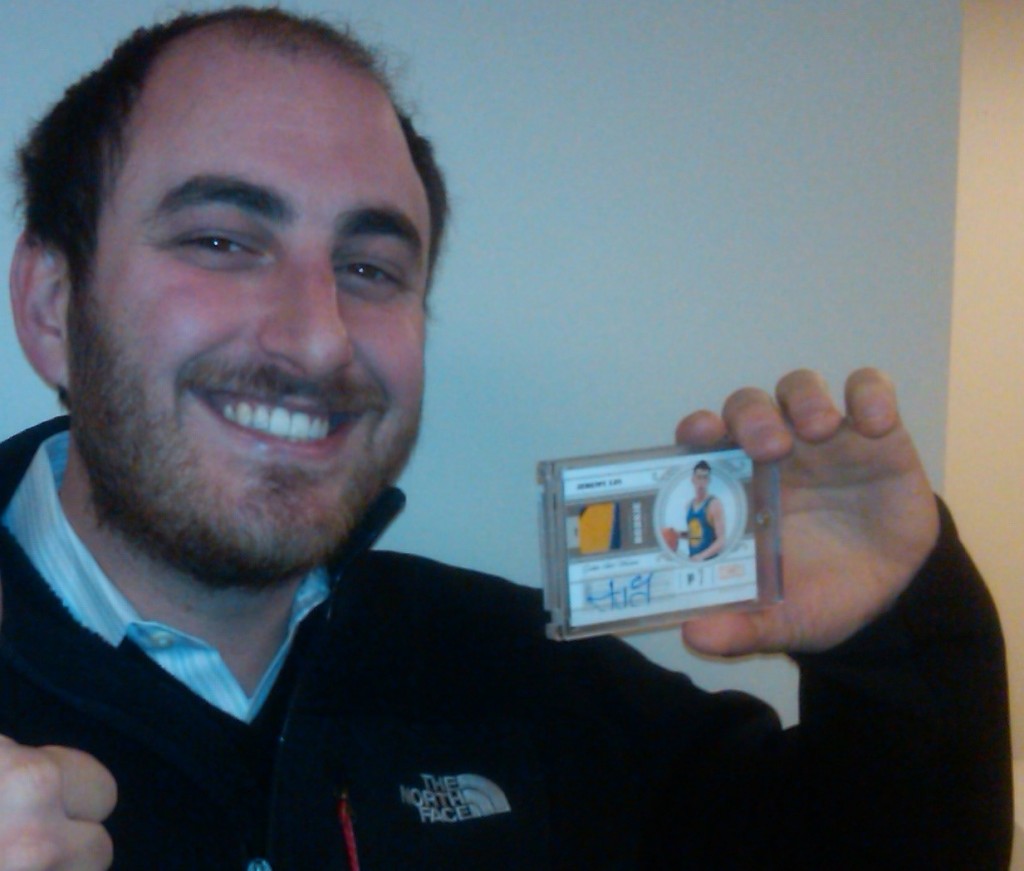 Beckett Media: When did you pull the J-Lin card?
Yair Rozmaryn: Ha, wish I could say I pulled it. But I purchased it from another collector/investor before his meteoric rise to fame. Right after the game vs Utah.
BM: Tell us about how you reacted to your hit/acquisition?
YR: I was really happy but at the same time somewhat nervous. I didn't know if this was a fad or if he could actually play. Then the Lakers game happened and he outslugged Kobe in a game for the ages. At that point, I knew I had something special.
BM: What's with all the Lin-sanity? (What's your take on why people are going nuts over Jeremy Lin?)
YR: Jeremy Lin-mania is here to stay. He has the rare opportunity to transcend the sport of basketball across East Asia and beyond. To give some perspective, Tracy McGrady apparently had over 1,000,000 followers on Twitter just because he played with Yao Ming. Yao Ming, while a tremendously skilled player, was not very exciting to watch, played for a small-mid size market team, and did not speak English particularly well so he had trouble connecting with the casual American basketball fan. Jeremy Lin is quite the opposite. He's articulate and bi-lingual; he's very exciting to watch; he's religious; and he plays in the biggest market in the country.
Furthermore, we rarely hear of players in the NBA coming from relative obscurity to superstardom especially in such a short period of time. The curious case of Jeremy Lin is not only interesting because of his ethnic background but also because of his astonishing road traveled. Here is a guy who couldn't get a Division-I scholarship. He went from barely playing as a walk-on for Harvard to achieving all-conference honors in his junior year only to then go undrafted. Then, he's constantly tossed around the NBA just so teams can make cap room for bigger stars … he floats around the D-league and has to crash on his brother's couch. And now, he's the biggest name in sports. It's really such an inspirational story that moves you every time you hear it.
We could be mentioning Jeremy Lin in the same breath as Tiger Woods and Pele very, very soon.
For more information, or to schedule an appointment at the New York BGS office, contact BGS Regional Sales Manager Charles Stabile via phone at 212-375-6760, fax at 212-375-6738 or email at cstabile@beckett.com.