Gary Sanchez Rookie Cards and Prospects Cards Round-Up
At the start of the 2016 season, Gary Sanchez was one of the top prospects in the Yankees system. Still, there wasn't a lot of mainstream buzz surrounding him. Even at the All-Star Break, the catcher wasn't generating a ton of chatter. But then a funny thing happened and home runs started ripping off the rookie's bat at a record pace. And interest in Gary Sanchez Rookie Cards grew.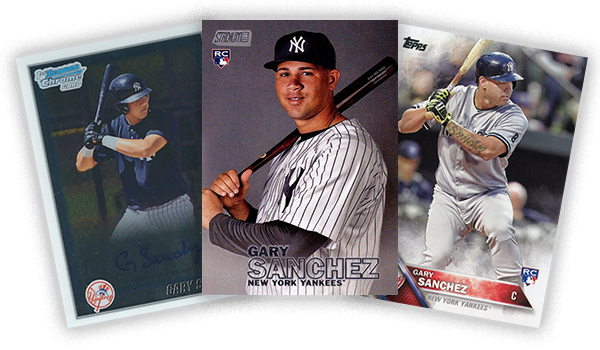 So what are his rookies and cards to watch? We've got you covered.
Because he appeared in a pair of games for the New York Yankees at the end of 2015, Gary Sanchez Rookie Cards are found in 2016 products. However, his first appearances on cards came back in 2010, not long after he signed with New York.
The Best Gary Sanchez Cards
The most valuable Gary Sanchez cards isn't officially a Rookie. It's an insert. The 2010 Bowman Chrome Gary Sanchez autograph trumps everything else he has out. His first MLB autograph card, it comes from one of the hobby's most popular and important lines. Signed on-card, it has everything going for it including the Yankees uniform and lots of Refractors.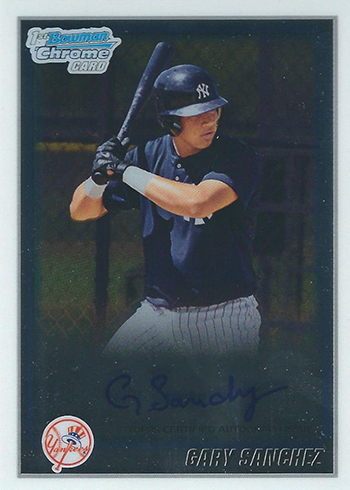 Sanchez also has a regular Prospects insert in 2010 Bowman Chrome. While not as valuable, it's much more accessible.
Sitting between the two is the 2010 Bowman Sterling Gary Sanchez. The catcher doesn't have an autograph in that set or any other 2010 Bowman releases (which adds to the significance of the the Chrome autograph). However, the Bowman Sterling Prospects card is much tougher to come by. As a result, it commands a premium over the regular Chrome card.
Sanchez also has an autograph in 2010 Donruss Elite Extra Edition. Because it's not licensed by MLB, it's cheaper than the Bowman Chrome autograph. The sticker used for the signature also hurts the appeal for some. However, it does come serial numbered and the photo is the same one used on the 2010 Bowman Sterling Gary Sanchez card.
As far as actual Gary Sanchez Rookie Cards go, so far they're all very affordable. They come in sets that are accessible. So far, none are short prints, either. This is another tip off that his emergence was something of a surprise. Another is the fact that he doesn't have any autographs in 2016 sets so far. If you're looking for something with more value, look to the inserts and parallels.
Below is a gallery of the Gary Sanchez Rookie Cards released so far followed by a breakdown of his top prospect cards.
Gary Sanchez Rookie Cards Gallery
2016 Bowman Gary Sanchez RC #143
Parallels: Silver, Purple (/250), Blue (/150), Green (/99), Gold (/50), Orange (/25), Red (/5), Metallic (1/1), Printing Plates Black (1/1), Printing Plates Cyan (1/1), Printing Plates Magenta (1/1), Printing Plates Yellow (1/1)
Buy on: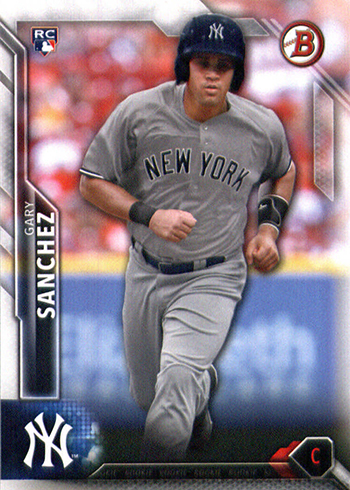 2016 Bowman's Best Gary Sanchez RC #3
Parallels: Atomic Refractors, Refractors, Blue Refractors (/250), Green Refractors (/99), Gold Refractors (/50), Orange Refractors (/35), Red Refractors (/5), Superfractors (1/1)
Buy on: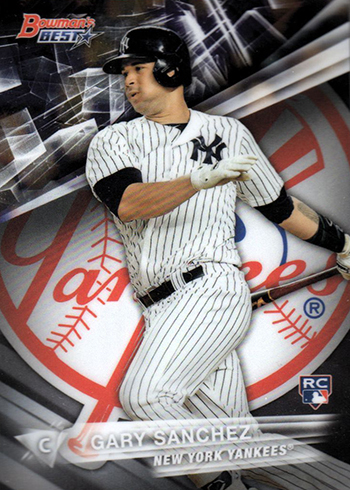 2016 Bowman Chrome Gary Sanchez RC #90
Parallels: Refractors (/499), Purple Refractors (/250), Blue Refractors (/150), Green Refractors (/99), Gold Refractors (/50), Orange Refractors (/25), Red Refractors (/5), Printing Plates Black (1/1), Printing Plates Cyan (1/1), Printing Plates Magenta (1/1), Printing Plates Yellow (1/1), Superfractors (1/1)
Buy on: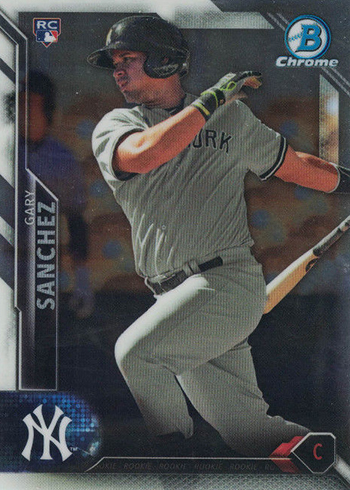 2016 Bowman Platinum Gary Sanchez RC #2
Parallels: Ice, Purple (/250), Green (/99), Orange (/25), Black (1/1), Printing Plates Black (1/1), Printing Plates Cyan (1/1), Printing Plates Magenta (1/1), Printing Plates Yellow (1/1)
Buy on: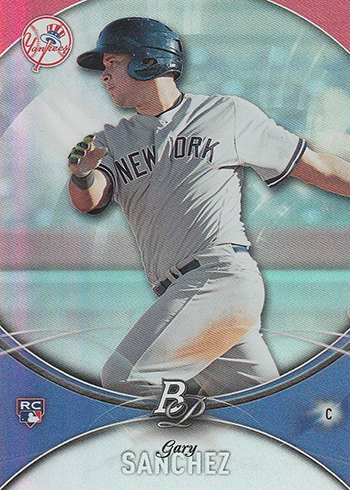 2016 Diamond Kings Gary Sanchez RC #171
Parallels: DK Minis, Framed, Artist's Proof (/99), DK Minis Materials (/99), Framed Blue (/99), Framed Red (/99), Artist's Proof Silver (/25), DK Minis Black (/25), DK Minis Materials Prime (/25), Framed Green (/5), Artist's Proof Black (1/1), Framed Black (1/1)
Buy on: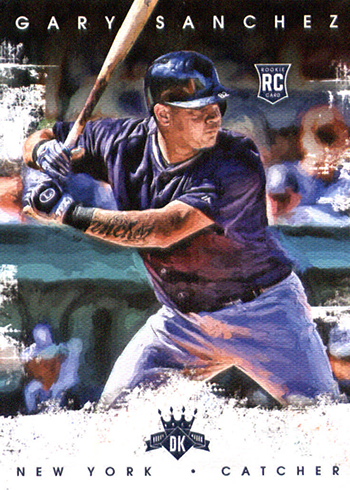 2016 Finest Gary Sanchez RC #64
Parallels: Refractors, Purple Refractors (/250), Blue Refractors (/150), Green Refractors (/99), Gold Refractors (/50), Orange Refractors (/25), Red Refractors (/5), Printing Plates Black (1/1), Printing Plates Cyan (1/1), Printing Plates Magenta (1/1), Printing Plates Yellow (1/1), Superfractors (1/1)
Buy on: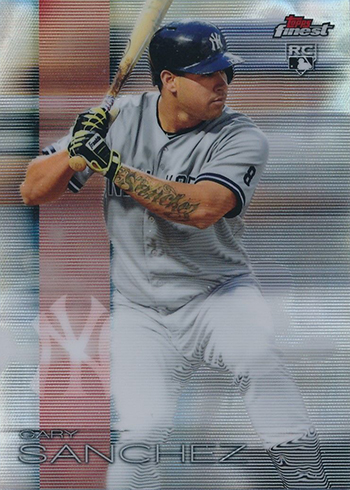 2016 Stadium Club Gary Sanchez RC #1
Parallels: Black, Black and White (Orange Foil), Members Only, Foilboard (/25), First Day Issue (/10)
Buy on:
2016 Topps Gary Sanchez RC #675
Parallels: All-Star Game Silver, Black and White Negative, Rainbow Foil, Gold (/2016), Chrome Blue Saphhire (250 printed), Factory Set Sparkle Foil (/177), Vintage Stock (/99), Black (/65), Pink (/50), Clear (/10), Blue Sapphire Refractor (/5), Framed (1/1), Platinum (1/1), Printing Plates Black (1/1), Printing Plates Cyan (1/1), Printing Plates Magenta (1/1), Printing Plates Yellow (1/1)
Buy on: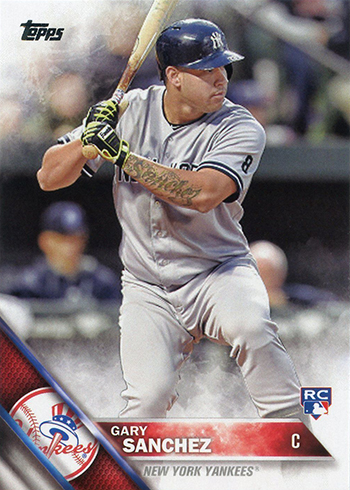 2016 Topps Allen & Ginter Gary Sanchez RC #152
Parallels: Mini, Mini A & G Back, Mini Black, Mini No Card Number, Mini Brooklyn Back (/25), Glossy (1/1), Mini Framed Printing Plates Black (1/1), Mini Framed Printing Plates Cyan (1/1), Mini Framed Printing Plates Magenta (1/1), Mini Framed Printing Plates Yellow (1/1), Mini Glossy (1/1), Mini Wood (1/1)
Buy on: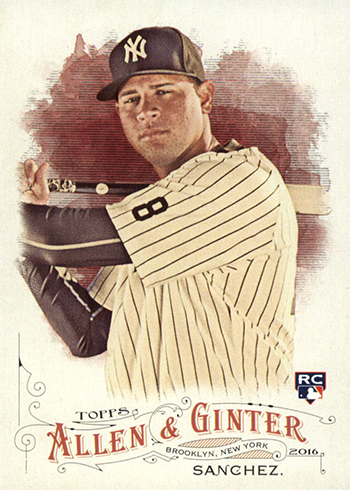 2016 Topps Archives Gary Sanchez RC #162
Parallels: Blue (/199), Red (/50), Black (1/1), Printing Plates Black (1/1), Printing Plates Cyan (1/1), Printing Plates Magenta (1/1), Printing Plates Yellow (1/1)
Buy on: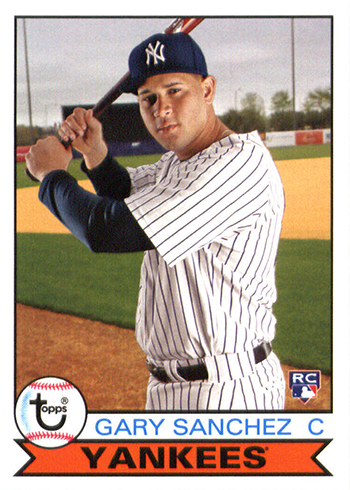 2016 Topps Chrome Gary Sanchez RC #143
Parallels: Refractors, Black Refractors, Pink Refractors, Prism Refractors, Sepia Refractors, Purple Refractors (/275), Green Refractors (/99), Blue Refractors (/150), Blue Wave Refractors (/75), Gold Refractors (/50), Orange Refractors (/25), Red Refractors (/5), Printing Plates Black (1/1), Printing Plates Cyan (1/1), Printing Plates Magenta (1/1), Printing Plates Yellow (1/1), Superfractors (1/1)
Buy on: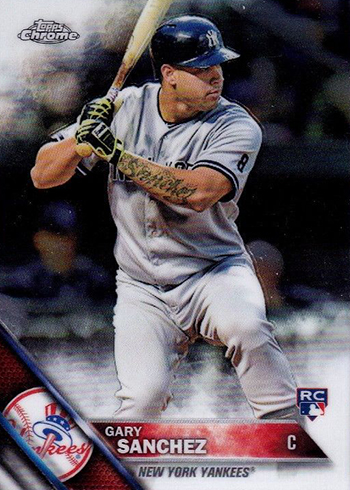 2016 Topps Gypsy Queen Gary Sanchez RC #72
Parallels: Framed Blue, Mini, Framed Purple (/250), Mini Purple (/250), Framed Green (/99), Mini Green (/99), Mini Gold (/50), Mini Red (/5), Framed Black (1/1), Mini Clear (1/1), Mini Framed Printing Plates Black (1/1), Mini Framed Printing Plates Cyan (1/1), Mini Framed Printing Plates Magenta (1/1), Mini Framed Printing Plates Yellow (1/1), Mini Graphite (1/1), Mini Leather (1/1), Printing Plates Black (1/1), Printing Plates Cyan (1/1), Printing Plates Magenta (1/1), Printing Plates Yellow (1/1)
Buy on: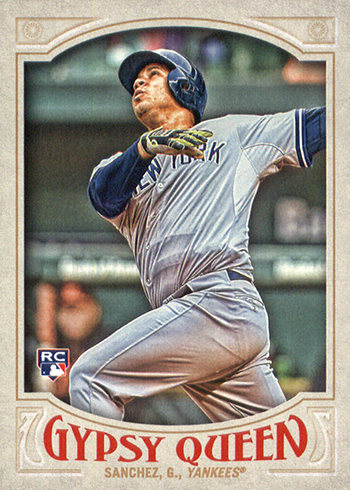 2016 Topps Heritage Gary Sanchez RC/Raul Mondesi RC #177
Parallels: Gum Stained Back, Red Back, Reverse Stock
Buy on: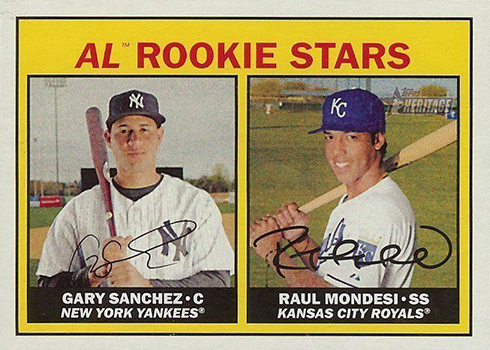 2016 Topps Opening Day Gary Sanchez RC #OD146
Parallels: Blue Foil, Purple Foil, Black (1/1), Printing Plates Black (1/1), Printing Plates Cyan (1/1), Printing Plates Magenta (1/1), Printing Plates Yellow (1/1)
Buy on: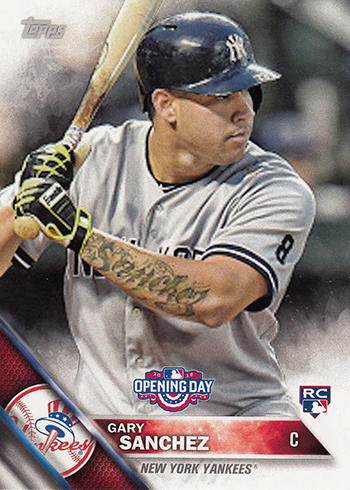 Top Gary Sanchez Prospect Cards
2010 Bowman Chrome Prospect Autographs Gary Sanchez #207
Parallels: Refractors (/500), Blue Refractor (/150), Gold Refractors (/50), Orange Refractors (/25), Red Refractors (/5), Printing Plates Black (1/1), Printing Plates Cyan (1/1), Printing Plates Magenta (1/1), Printing Plates Yellow (1/1), Superfractors (1/1)
Buy on: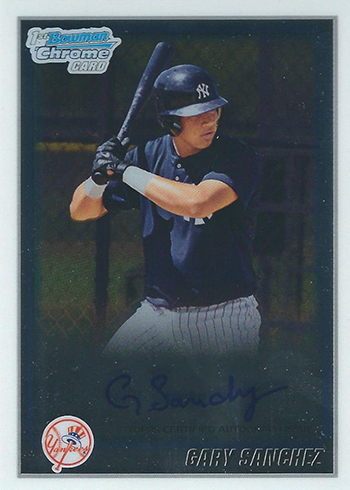 2010 Bowman Chrome Prospects Gary Sanchez #207
Parallels: Green X-Fractors, Purple Refractors (/899), Refractors (/500), Blue Refractors (/150), Gold Refractors (/50), Orange Refractors (/25), Red Refractors (/5), Printing Plates Black (1/1), Printing Plates Cyan (1/1), Printing Plates Magenta (1/1), Printing Plates Yellow (1/1), Superfractors (1/1)
Buy on: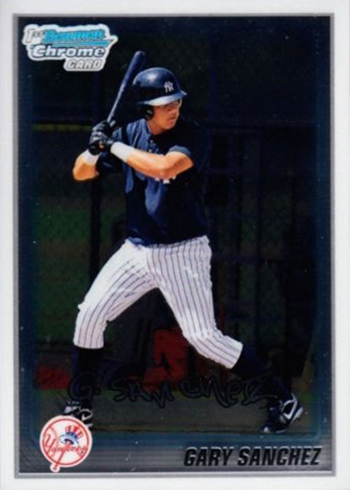 2010 Bowman Sterling Prospects Gary Sanchez #GS
Parallels: Refractors (/199), Gold Refractors (/50), Black Refractors (/25), Purple Refractors (/10), Printing Plates Black (1/1), Printing Plates Cyan (1/1), Printing Plates Magenta (1/1), Printing Plates Yellow (1/1), Red Refractors (1/1)
Buy on: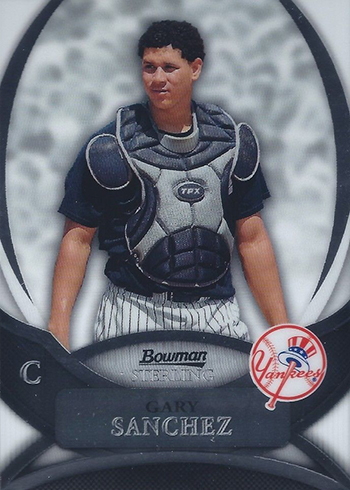 2010 Donruss Elite Extra Edition Franchise Futures Signatures Gary Sanchez #34 /669
Parallels: Signature Aspirations (/100), Signature Status (/50), Signature Status Emerald (/25), Signature Status Gold (/5), Signature Status Black (1/1)
Buy on: