Garbage Pail Kids Vs. Madballs Is the '80s Crossover You Probably Weren't Expecting
Madballs Vs. Garbage Pail Kids? It's happening.
More than 30 years after their respective debuts, the gross out worlds of Garbage Pail Kids and Madballs are crossing over.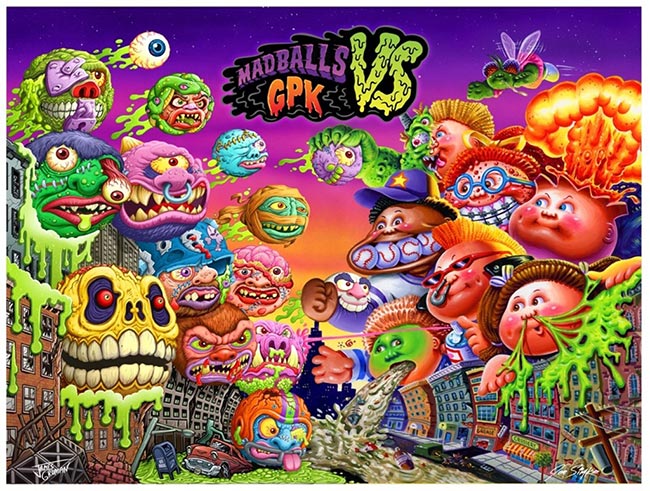 Topps and Cloudco Entertainment, owners of the Madballs brand, are teaming up to pit their lines against one another.
"Madballs and GPK are of the same era and share tons of irreverent attributes so we love the idea of a fun 'confrontational collaboration' that plays off the two brands as competitors," said Robert Prinzo, Cloudco Entertainment's Head of Global Licensing. "Whether it's Hollywood monsters, horror icons or comic book superheroes, fans always want to see 'impossible' match-ups from different universes."
Ira Friedman, Vice President of Global Licensing at Topps said, "Shared nostalgic roots and over-the-top zaniness make this collab a no-brainer."
Garbage Pail Kids and Madballs are poised to face off against one another through a variety of products including action figure two-packs, vinyl figures, collectibles, clothing and other accessories. A mobile app and other retail and publishing partnerships are also expected. Companies producing merchandise include Megalopolis, Mad Engine, Chalk Line, Mishka NYC, Pinfinity and Super Impulse.
Artwork will help anchor the collaboration. Joe Simko (Garbage Pail Kids) and Jim Groman (Madballs) are two artists who have worked with their respective lines for a long time. Both will be among those creating new pieces for Madballs Vs. GPK.
Product specifics and dates have not yet been announced.