Garbage Pail Kids Chrome Original Series 2 out this summer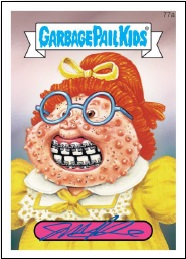 By Susan Lulgjuraj | Beckett Sports Card Monthly Editor
Garbage Pail Kids chrome cards will be back this summer
Topps will release 2014 Garbage Pail Kids Chrome Original Series 2 on July 31 featuring 42 characters.
There will be 84 cards in the Series 2 set (42 A and B names) with 26 returning characters (13 A and B names). In addition, collectors will be able to find 84 Original Concept Sketch cards drawn by John Pound and 10 C-name short-print (one in every 100 packs).
Topps can't have chrome cards without including refractors.
The standard Refractors will fall at a rate of one in every three packs. Prism Refractors (numbered to 99), Black Refractor (numbered to 99, Hobby exclusive), Gold Refractor (numbered to 50, Hobby exclusive) and Superfractors (1-of-1) will also be included.
Other hits include Artist Autographs (2,200 total), redemption cards for uncut sheets (50 total), and Printing Plates (440 total).
Each pack will contain four cards and there will be 24 packs in each box.
Susan Lulgjuraj is an editor at Beckett Media. You can email her here with questions, comments or ideas. Follow her on Twitter here. Follow Beckett Media on Facebook and Twitter.