Game-used: You may never know that it's real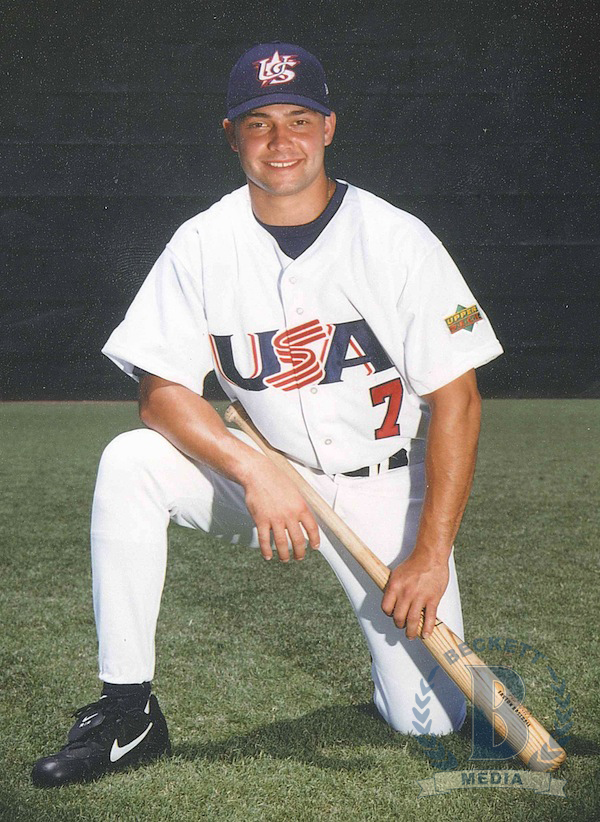 By Chris Olds | Beckett Baseball Editor | Commentary
A few years ago, I picked up a somewhat obscure  game-used jersey of my favorite player, Nick Swisher, and I can't prove without a shadow of a doubt that it was used.
I repeat … can't.
I've done some research but I still can't prove without a shadow of a doubt that it's real. And you know what? I'm OK with that.
It's a white 2001 USA Baseball jersey, and it's not got a single statement of authentication to go with it — but I do know, to a degree, its path into my hands. I picked it up on eBay through someone who bought it in a bulk lot from an auction house where it was consigned as part of an even bigger lot back in 2009.
So, naturally, what did I do back in June when its buddy, a matching blue jersey, popped up on eBay from the same collector/seller?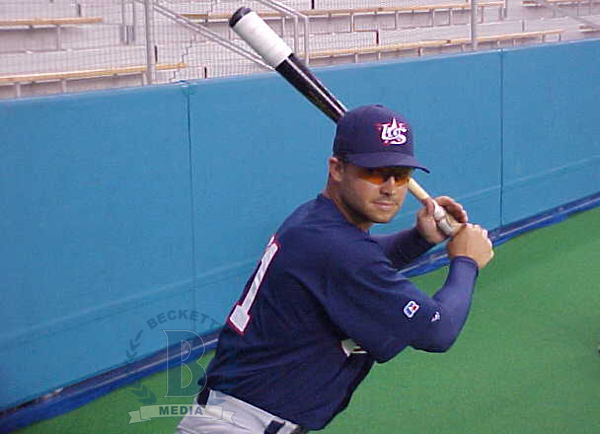 I bought it, of course, even though my efforts to confirm the identity of my first jersey came up short of what might be wanted by most collectors.
Why am I fine? The details and the situations of its arrival onto the market would simply be just too complicated to make up — and, well, Swisher didn't play a whole lot for Team USA, anyway.
At worst, I have a pair of game-issued jerseys or jerseys he wore while not playing which, in reality, were used during a game. Or, I might have two jerseys he wore while playing — but there are no glaring examples of use besides some small stains on the white jersey. (Could be from use, could be from bench time, could be from storage. I'll never know.)
In a collecting world where people often demand that the details of an item are documented heavily — and that their own personal definitions of game-used must be met or an item is still seen as questionable– my two jerseys are probably lackluster. And yet I am satisfied.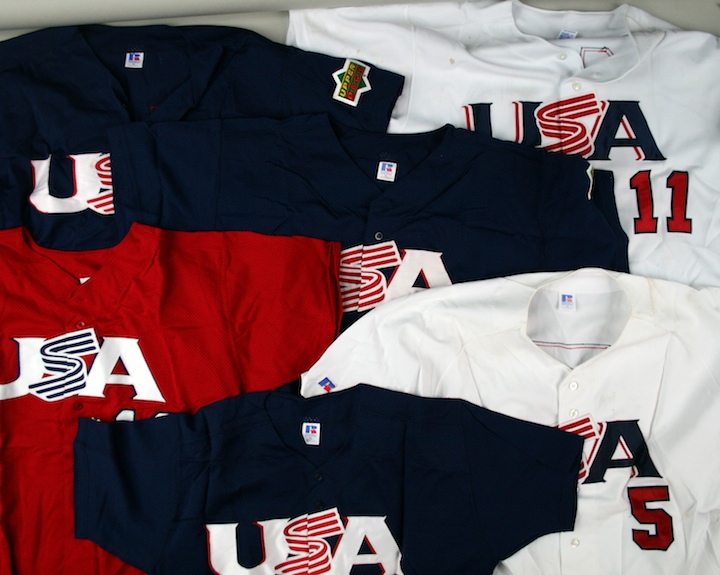 When I learned of the first jersey a few years ago on a post via the Game Used Universe website, a place where collectors and dealers wheel and deal and show off their game-used stuff,  I tried to research the jersey before buying but came up short.
First stop? Baseball cards for strike one. Swisher appears on just one USA Baseball card, a 2004 Upper Deck card that used an image from his Oakland A's days. Interestingly, Upper Deck, which made USA Baseball cards at the time, had made memorabilia cards the year before and the year after Swisher's class but not in 2001 — so it made sense that these jerseys could still exist. (So maybe it wasn't a total strike, after all.)
All the seller could tell me was that the jersey came from a lot of USA gamers sold by Hunt Auctions — lot No. 1,051 in its Feb. 25, 2009, auction. So, I tracked down the auction and it noted the Swisher jerseys along with others in the lot — a few of which were up for auction at the time via the owner's eBay account. (Swisher wasn't.) The owner said he had two Swishers, both with minimal obvious use, so I picked one and made my purchase, knowing that at least it came from a bulk lot — which was one of 72 separate USA lots sold by Hunt during that event.
So, realistically, given that volume of items sold through Hunt — which included other big-league stars — either USA Baseball or Upper Deck had a massive inventory of jerseys and other game-used items it had no choice to get rid of all at once. (Hunt did not issue any kind of paperwork with the auction or note where the items came from.)
When I received my jersey, it was the No. 11 shown in the photo above but with no nameplate (USA jerseys don't have them) or any markings on tagging noting the player. Still curious, I contacted USA Baseball to see whether it had any photos of Swisher in his USA uniform. They did, and all the details matched —  the styles, brands and patching — but he was wearing No. 7 for the photo shoot. I asked about that, too, and I'm told he wore No. 11 when in uniform for the team, though he only played two games  and went hitless in six at-bats. Fortunately, they were able to find a second photo of him, this time in his blue jersey, and it appears to be a No. 11. So I have a bit more proof that my items are legit — but it's not much. I have no idea whether it's my jersey in the photo.
Short of trying to track down newspaper photographs from more than a decade ago —  hoping Swisher was somehow seen in uniform while mostly on the bench during a traveling caravan of a USA Baseball tour and that a single photo might show the small stains on one of my jerseys  — I have about all of the proof I can. Sure, there are questions of potentially how many jerseys could have been issued to players — and there are red jerseys in the mix, too — but there's also not a lot of time for me to obsess about it. Meanwhile, additional information that we are more used to for the pro levels and pro leagues just isn't necessarily available in this case. My USA Baseball contact indicated that records from even back then are a bit spotty for details about when Swisher might have played — or even what color uniforms were used for which games back then.
And, just think, that was roughly a decade ago.
Stories like this one are commonplace in the game-used memorabilia world but they are also examples of the challenges we face as collectors. Look for tips, resources and more about collecting game-used in the next issue of Beckett Sports Card Monthly coming soon.
Chris Olds is the editor of Beckett Baseball magazine. Have a comment, question or idea? Send an email to him at colds@beckett.com. Follow him on Twitter by clicking here.