Game-Used Michael Jordan Air Jordan 1's Sell for $560,000
A pair of game-used and autographed Air Jordan 1 shoes sold for more than a half-million dollars in a Sotheby's online auction that closed May 17 – which also happened to be the day the final two episodes of "The Last Dance" documentary aired on ESPN.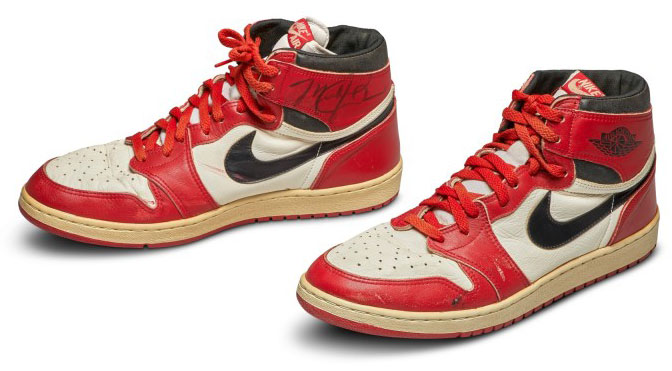 The shoes attracted 25 bids from 10 different bidders before selling for a world-record $560,000, according to Sotheby's, who stated in a release that the previous auction record for a pair of any sneakers was the $437,000 paid last year for the 1972 Nike Waffle Racing Flat "Moon Shoe." Remarkably, Sotheby's says competitive bidding for the Air Jordan shoes increased by $300,000 in the final 20 minutes of the online auction.
Sotheby's announced a pre-draft estimate of $150,000 for the shoes. But the final sale dwarfed that. Interestingly, the auction reveals that Jordan wore two different size of shoe – one a size 13 and the other a size 13 1/2.
These Air Jordan 1 shoes were worn by Jordan during the 1984-85 season. Jordan signed one of the shoes.