—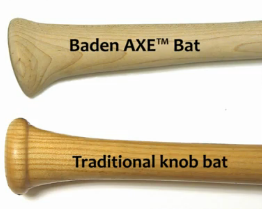 By Chris Olds | Beckett Baseball Editor
Sports fans are often all about the details in their card sets and their collections.
But if you're a game-used memorabilia collector, then you know that the details are even more important — sometimes the difference between something being real and fake.
Now, though, with a new type of bat being used by some MLB players during spring training this year, there's something new for game-used collectors to look for. It's the Baden Axe — a  model with a simple difference as its knob is skewed and tapered. That allows for less friction with the player's hand during swings and doesn't force a player to pay attention to which way the label is facing when he bats.
While that may not mean much to most of us, it might mean a lot more to players. And it certainly might mean something on the game-used memorabilia front.
One of the players who used the bat this year during spring training is Jimmy Rollins of the Philadelphia Phillies, who hit the first MLB home run using one of the bats earlier this month, according to the Federal Way, Wash.-based company. While the model has been approved for use by MLB in 2010, most converts have been at the collegiate level until this spring. The bat also has been approved for use at the Little League and high school levels.
Could there be a premium for game-used bats such as these compared to, say, other Rollins gamers? Maybe for now, based on sheer quantity of game-used bats available on the secondary market — if any even are available. It's been seen before with sluggers such as Barry Bonds, whose Sam Bats typically command more cash than those used earlier in his career.
Chris Olds is the editor of Beckett Baseball magazine. Have a comment, question or idea? Send an email to him at colds@beckett.com. Follow him on Twitter by clicking here.