Game of Thrones cards arrive next month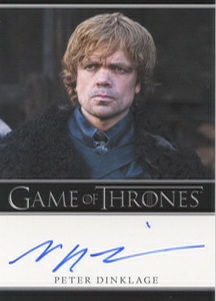 By Susan Lulgjuraj | Contributing Editor
One of the hottest television shows in the last year has been HBO's Game of Thrones, a television adaptation of George R.R. Martin's books.
A series like this has captured the imagination of so many people with its intrigue, violence, love and politics. Of course, it's going to get the trading card treatment.
Rittenhouse Archives is readying its release of Game of Thrones Season One. The product, filled with autographs and shadow box cards, is scheduled to come out on June 6.
Each box ($84) will contain 24 packs with five cards in each pack. There are two autographs in every box – check out the extensive autograph gallery below – from the people who play characters such as Jon Snow (Kit Harrington), Robb Stark (Richard Madden) and Cersei Lannister (Lena Headey).
It seems the only way to get Ned Stark (Sean Bean) and Tyrion Lannister (Peter Dinklage) autographs is through Rittenhouse's incentive program. Three cases gets the buyer a Sean Bean autograph and six cases a Peter Dinklage auto.
Then again, there is always the secondary market.
The base set consists of 72 cards featuring plot synopses from all 10 episodes of Season One and biographies of more than 40 characters. Base parallels will fall 1 in every 3 packs. Inserts include The Quotable Game of Thrones, The Houses and You Win or You Die.
One of the most intriguing items are the Shadowbox Cards, which fall at a rate of 1:48 packs. Pictures can't do these cards justice, but Rittenhouse had these cards at the Philly Non-Sports Card Show in April. The card consists of at least three different layers with a background scene, a character layered on top and a clear plastic cover with a design on top. It creates an almost 3D image.
Despite these cards coming out in the spring, we all know winter is coming.
Susan Lulgjuraj is a contributing editor for Beckett Media. You can email Susan here. Follow her on Twitter here.