Gallery: 2014-15 Panini Threads Voices of the Game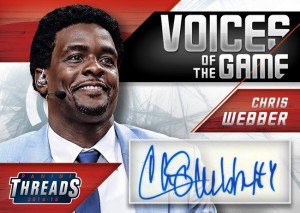 By Stephen Laroche | Beckett Basketball Editor
The upcoming release of 2014-15 Panini Threads Basketball will be exclusive to Target stores and it will be the only place where collectors will be able to pull Voices of the Game cards that are going to feature autographs from many of the sport's most popular announcers.
With a lineup that boasts 20 broadcasters, Voices of the Game will deliver signatures from such memorable names as Ernie Johnson, Dick Vitale and Craig Sager along with former players and coaches who have stepped behind the microphone that include Shaquille O'Neal, Grant Hill, Bob Knight and Chris Webber.
Want to see a complete gallery of cards from this set? Read on after the jump.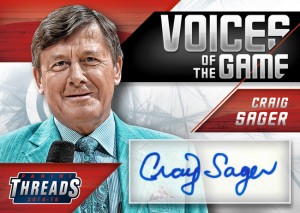 The cards of Sager and Johnson will be their first certified autographs and NBA TV personality Rick Kamla will made his first trading card appearance. Panini has noted that the approximate odds for pulling one of these cards will be one in every two boxes and confirmed the quantities of each card that will be produced.
Card #    Broadcaster    Quantity
1    Craig Sager    499
2    Rick Kamla    499
3    Ernie Johnson    499
4    Kenny Smith    99
5    Bob Knight    49
6    Steve Smith    299
7    Clark Kellogg    499
8    Walt Frazier    99
9    Chris Webber    49
10    Dick Vitale    99
11    Phil Chenier    349
12    Ron Boone    299
13    Mychal Thompson    349
14    Shaquille O'Neal    49
15    Michael Cage    349
16    Jon McGlocklin    199
17    Doug Collins    199
18    Grant Hill    49
19    Sidney Moncrief    349
20    Brent Barry    99
Stephen Laroche is the editor of Beckett Basketball and Beckett Hockey magazines. Have a comment, question or idea? Send an e-mail to him at slaroche@beckett.com. Follow him on Twitter @Stephen_Laroche.