Funko Pop Wayne Gretzky Figures Cover the Great One's Career
Pop! goes The Great One. The number of Funko Pop Wayne Gretzky figures is getting a big boost with a slate of pieces available outside of Canada for the first time.
A figure of Gretzky in his black Los Angeles Kings gear is the NHL's all-time points leader's first non-exclusive.
A four-pack is exclusive to Fanatics. This package showcases Gretzky on all four of the NHL teams he played for: the Edmonton Oilers, Los Angeles Kings, St. Louis Blues and New York Rangers. The Kings figure in the four-pack is a variant, putting Gretzky in a white uniform. Fanatics also has an exclusive Michael Jordan Pop figure.
These are the first Gretzky Pop figures, though. Earlier in 2018, he was included in a wave of Funko POP NHL figures available only in Canada. The blue jersey Edmonton also has a rarer chase figure that comes with a mini Stanley Cup packaged inside the box.
The Kings figure is releasing now. The Fanatics four-pack comes out later in the winter.
Several Wayne Gretzky POP figures are available on eBay.
Funko Pop Wayne Gretzky List and Gallery
Funko POP Hockey 32 Wayne Gretzky
Team: Edmonton Oilers (blue jersey)
Exclusive: Canada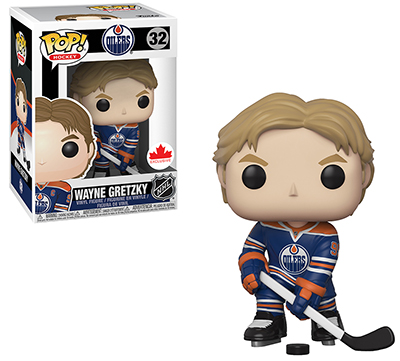 Funko POP Hockey 32 Wayne Gretzky, Edmonton Oilers with Stanley Cup (Chase Figure)
Team: Edmonton Oilers (blue jersey)
Exclusive: Canada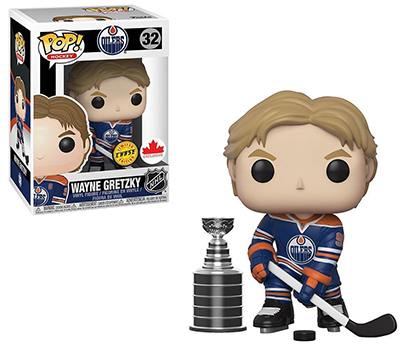 Funko POP Hockey 45 Wayne Gretzky, Los Angeles Kings
Team: Los Angeles Kings (black jersey)
Exclusive: None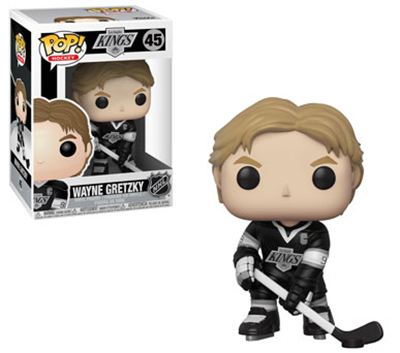 Funko POP Hockey Wayne Gretzky Four-Pack
Teams: Edmonton Oilers (white jersey), Los Angeles Kings (white jersey), St. Louis Blues, New York Rangers
Exclusive: Fanatics