Funko launches DC Comics Legion of Collectors subscription service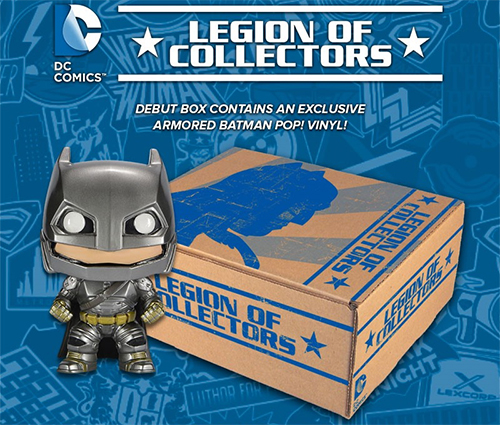 By Ryan Cracknell | Hobby Editor
Following in the footsteps of their Marvel Colletor Corps and Star Wars Smuggler's Bounty programs, Funko has launched DC Comics Legion of Collectors. It's another subscription service that delivers exclusive Funko Pop! figures and other collectibles directly to fans.
The first box, which comes with the theme Batman v. Superman, is highlighted by an Armored Batman Pop! vinyl figure that won't be sold in hobby shops, Walmarts or your nearest convenience store.
Every other month (six times per year), a new box will ship. Each costs $25 plus shipping and comes with a variety of collectibles and apparel. Boxes are different every time and all the items won't be sold in stores. Funko claims that each DC Comics Legion of Collectors box has $50 worth of stuff.
They can be ordered individually. However, if you opt in for a full year up front, you get a bonus item on your anniversary of signing up.
The deadline for ordering the first box is March 1. They're currently only available to residents of the United States and Canada.
This is far from the only Funko Pop! Batman v. Superman vinyl figure. The main lineup includes two more Batman figures, Superman, Wonder Woman, Aquaman and a Superman Soldier.