Fun Items at The National and What to Expect Thursday
For a late bloomer, Pete Wilbur sure has an eye for a great piece.
Wilbur, stationed at the B.P. Sports booth at the 40th National Sports Collectors Convention, didn't get into collecting until he was out of his youth.
As an adult, he became interested in projects. The spark came from an autograph collection of the NBA's 50 Greatest Players in 1996. He finished the book of signatures, but there was an element of dissatisfaction.
"What do you do with a book?" Wilbur thought.
His true autograph fever came when the Atlanta native witnessed the hype surrounding the Summer Olympics in 1996.
Admittedly skipping a lot of steps, this leads us to 2019.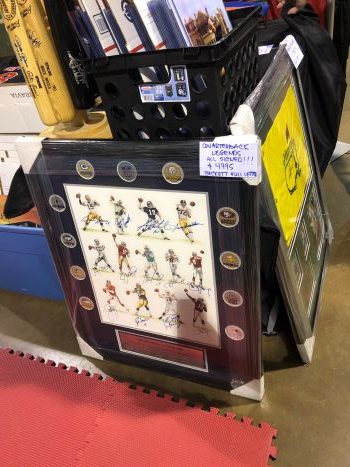 Sticking with the project theme, Wilbur is showcasing a framed photo made up of gridiron legends. It highlights the 13 greatest quarterbacks of all time, in his opinion. Each signal-caller signed the piece.
Bart Starr
Joe Namath
Fran Tarkenton
Terry Bradshaw
Joe Montana
Dan Marino
Troy Aikman
Steve Young
John Elway
Brett Favre
Tom Brady
Peyton Manning
"It was fun to debate with friends," Wilbur said. He added that Tom Brady and Troy Aikman were some of the trickier John Handcock's to acquire.
Starr's recent passing only increases the value. The one on display is the fifth made, and it is listed for $4,995.
"I wanted to create something that someone would regret not getting," Wilbur said.
There were several other pieces that caught the eye (surprise, surprise, right?).
Here are some others that caught the eye.
Deshaun Watson Jersey
Deshaun Watson did some damage in this jersey #NSCC19 pic.twitter.com/vpN4OXH4xN

— Beckett Media (@beckettmedia) August 1, 2019
Prominently on display at the Fanatics booth, a Watson game-used Clemson jersey is sure to catch the eye. The white version with the Fuller patch (honoring another Clemson great, Steve Fuller) on the right shoulder. Per the label, it comes from the 2015 season. That was the year Watson burst onto the national scene by leading the Tigers to the national championship game. It's listed for $9,999.99, down from its usual price of $11,999.99.
You know, just the uniform worn by the most dominant basketball player ever. No big deal. #NSCC19 #wiltchamberlain @nsccshow pic.twitter.com/gVStvnFEJQ

— Beckett Media (@beckettmedia) July 31, 2019
Wilt Chamberlain jersey
The Big Dipper hangs over patrons of The National near the entrance as part of the Memory Lane Inc collection. It is photo-verified authentic.
Barack was a baller. There is no doubt about it. #NSCC19 pic.twitter.com/QlYNCKiFw5

— Beckett Media (@beckettmedia) August 1, 2019
Barack Obama jersey
As detailed here, Heritage Auctions displayed Barack Obama's high school basketball jersey. The 44th President, who famously filled out a March Madness bracket on ESPN each year, is an avid hoops fan. Proof of his baller ways comes in the form of the jersey he had in high school. Legend has it, he might even be interested in having it again.
What to Look for on Thursday
With the doors open to the general public, Thursday promises to be madness.
The floor opens for VIPs at 9:30 a.m. General public is welcome at 10 a.m.
Notable events:
"Gary Vee Talks the Hobby" at Mike Berkus Main Stage.
What a day ! #NSCC19 pic.twitter.com/79fSlRSO61

— Gary Vaynerchuk (@garyvee) August 1, 2019
Vee, of Vaynerchuk Media has a huge social media presence and has become more active in sports cards again.
Topps Q&A
Details can be found here. The Topps Q&A gives collectors a direct chance to interact with Topps executives. Prior signup is required. Event starts at 6 p.m.
TRISTAR Autographs
TRISTAR sports an impressive series of autograph guests for the show. Wednesday's VIPs were Drew Pearson, Bill Cartwright and Ryan Klesko.
Thursday's group expands on that greatly. Here are the list of guests, per its website. Times and apperances are subject to change, of course.
Emmitt Thomas 10:30 a.m.
Rickey Jackson 10:45 a.m.
Marv Levy 10:45 a.m.
Rod Carew 11 a.m.
Emmitt Smith 11 a.m.
Cory Snyder 11 a.m. VIP
Earl Campbell 11:15 a.m.
Tony Dorsett 11:15 a.m.
Ralph Garr 11:15 a.m. VIP
Dave Robinson 11:30 a.m.
Jim Thome noon
Eric Dickerson 12:15 p.m
Marshall Faulk 12:30 p.m
Ray Guy 12:30 p.m
Jim Kelly 12:30 p.m
Dan Fouts 12:45 p.m
Andre Reed 12:45 p.m
Kellen Winslow 1 p.m
Bob Griese 1:15 p.m
Ray Lewis 1:45 p.m
Kurt Becker 2 p.m VIP
Michael Irvin 2:00 p.m
Howie Long 2 p.m
Randy White 2 p.m
Daniel Carcillo 2:15 p.m VIP
Steve Largent 2:30 p.m
Mike Garrett 2:30 p.m
Matt Leinart 2:45 p.m
OJ Anderson 3:15 p.m
Chris Zorich 3:30 p.m. VIP