From a Greenland Explorer to Skippers: The 2016 Allen & Ginter Surprises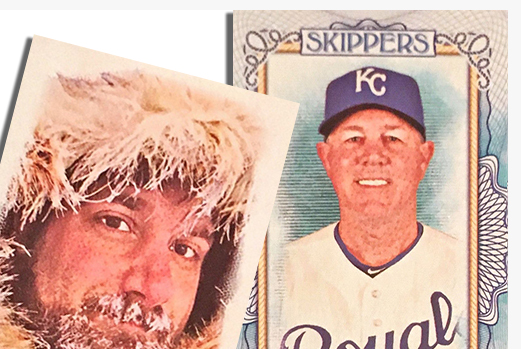 By Ryan Cracknell | Hobby Editor
To say that 2016 Topps Allen & Ginter Baseball has surprises is anything but surprising. The brand has a history of checklist additions that are only revealed once empty wrappers start hitting the floors.
Here's what to be looking out for.
2016 Topps Allen & Ginter Surprises
If more surprises are revealed, we'll add them here.
Greenland Explorer
Apparently a little too vague to be considered a "champion" in the main set, the Greenland Explorer is featured on a mini card. Inserted 1:26,432 packs, master set collectors may be doing some exploring of their own to find one. The card is numbered GE on the back. It's unknown whether this is the lone card in the lineup or if there are others.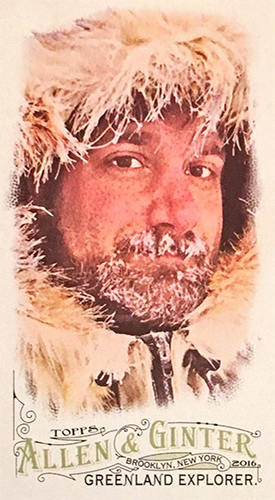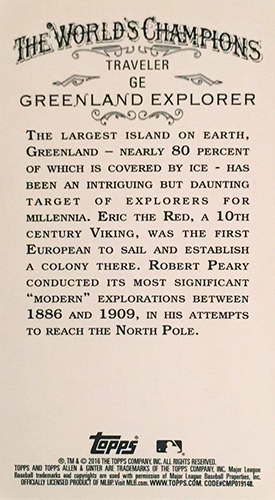 Skippers
Sorry if you were excited for an insert set dedicated to Barbie's younger sister. Skippers is a set of mini inserts dedicated to baseball managers. These mini cards are a case hit, landing 1:288 packs. But with what appears to be one for every team, individual cards should prove to be scarce before long.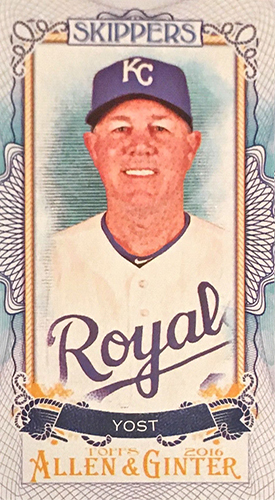 We'll fill in this 2016 Topps Allen & Ginter Skippers checklist as more are confirmed.
S-1 Pete Mackanin, Philadelphia Phillies
S-2 Bryan Price, Cincinnati Reds
S-3 Dave Roberts, Los Angeles Dodgers
S-4 Robin Ventura, Chicago White Sox
S-5 Terry Collins, New York Mets
S-6 Craig Counsell, Milwaukee Brewers
S-7 Mike Matheny, St. Louis Cardinals
S-8 Joe Maddon, Chicago Cubs
S-9 Jeff Banister, Texas Rangers
S-10 Dusty Baker, Washington Nationals
S-11 Buck Showalter, Baltimore Orioles
S-12 Mike Scioscia, Los Angeles Angels
S-13 Andy Green, San Diego Padres
S-14 Brad Ausmus, Detroit Tigers
S-15 A.J. Hinch, Houston Astros
S-16 Walt Weiss, Colorado Rockies
S-17 Bruce Bochy, San Francisco Giants
S-18 John Gibbons, Toronto Blue Jays
S-19 Paul Molitor, Minnesota Twins
S-20 Fredi Gonzalez, Atlanta Braves
S-21 Scott Servais, Seattle Mariners
S-22 Terry Francona, Cleveland Indians
S-23 Chip Hale, Arizona Diamondbacks
S-24 John Farrell, Boston Red Sox
S-25 Kevin Cash, Tampa Bay Rays
S-26 Clint Hurdle, Pittsburgh Pirates
S-27 Bob Melvin, Oakland Athletics
S-28 Don Mattingly, Miami Marlins
S-29 Joe Girardi, New York Yankees
S-30 Ned Yost, Kansas City Royals
Comments? Questions? Contact Ryan Cracknell on Twitter @tradercracks.