Fringe trading cards arrive this week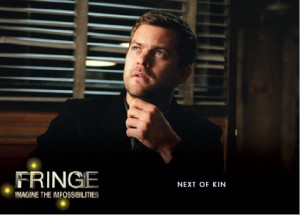 By Susan Lulgjuraj | Contributing Editor
Fringe is one of the more popular shows on television. But there is a difference in fans when it comes to it and many other shows on TV.
There's no watching Fringe just a little bit or catching an episode if you happen to be going through the channels.
It's all or nothing with Fringe, which creates some great fans.
Cryptozoic captured the best of the show's first two seasons on cards for a product that arrived this week.
"We're excited to partner with Cryptozoic, once again, as their high-quality and creatively designed trading  cards give  Fringe  fans a chance to have a tangible connection to their favorite characters and moments of the  most talked-about sci-fi series on television," said Maryellen Zarakas, Senior Vice President, Worldwide Marketing and TV & Studio Licensing, Warner Bros. Consumer Products in a release.
Fringe Seasons 1 & 2 feature a 72-card best set, two insert sets and plenty of autograph and wardrobe memorabilia cards.
Autographs can found of Anna Torv (Olivia Dunham), Joshua Jackson (Peter Bishop), John Noble  (Walter Bishop), Lance Reddick (Phillip Broyles), Blair Brown (Nina Sharp) and other characters.
"As huge fans of great sci-fi television, we feel that  Fringe  provides the perfect opportunity to expand our  partnership with Warner Bros. and creates a compelling trading card set that will get the fans excited," said  Scott Gaeta, chief operating officer at Cryptozoic Entertainment. "The  Fringe  Seasons 1 & 2 Trading Card  set highlights mind-blowing moments from the show's first two seasons, including the introduction of theObservers. The trading cards also feature wardrobe cards with pieces of the show's most iconic costumes,  like Agent Dunham's suit and Dr. Bishop's lab coat."
One of the redemption cards in the product is an oversized card with pieces of wardrobe from Olivia, Walter, Astrid and Peter.
Some of the basics: there are five cards per pack and suggested retail price is $3.50 per pack with 24 packs in a box.
Susan Lulgjuraj is a contributing editor for Beckett Media. You can email Susan here. Follow her on Twitter here.