Fringe Meghan Markle Autograph Card Gets Royal Bump with Engagement to Prince Harry
What does the news of Prince Harry and Meghan Markle getting engaged have to do with the hobby? No cards have been announced (yet) but there is an autograph connection.
If you opened some 2012 Cryptozoic Fringe Seaons 1 and 2 a while ago, you might want to dig them out. That's because there's a Meghan Markle autograph in the product. Now that she's in line to be a princess, it's going to appeal to a new, bigger audience of royal collectors.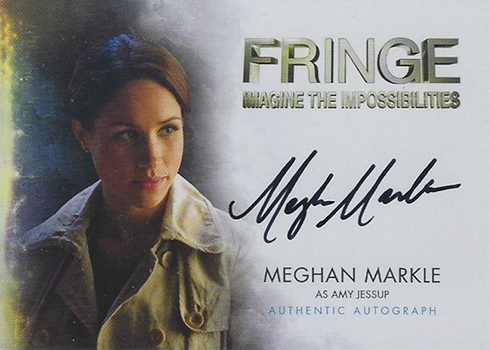 When the set released, a lot of the chase surrounded signatures of series stars Anna Torv and Joshua Jackson. Markle appeared in just two episodes of the acclaimed Sci-fi show. So when it came to the cards, her autograph wasn't that big of a deal.
But that's changed in recent months since Markle's relationship with Prince Harry, son of Prince Charles and the late Princess Diana, became public. Although there haven't been a lot of public sales, likely an indication that the product wasn't printed in large quantities, the last few to sell on eBay have gone for $125, $134.99 and $83. Those listed now have an asking price of $249.99.
Royal Autograph Rules
Now that she is poised to join the royal family, demand for Markle's autograph will rise. But don't expect her to sign any more autograph cards. That's because the royal family aren't supposed to sign things except in an official capacity. As a result, royal autographs are somewhat scarce, often arriving on the secondary market on things like correspondence.
On the screen, Markle is best known for being one of the leads in Suits. Her more than two dozen acting roles. include Horrible Bosses, 90210, Get Him to the Greek and Castle.
Although an exact date hasn't been announced, Prince Harry and Markle's wedding is expected to take place next spring.
Comments? Questions? Contact Ryan Cracknell on Twitter @tradercracks or by email.