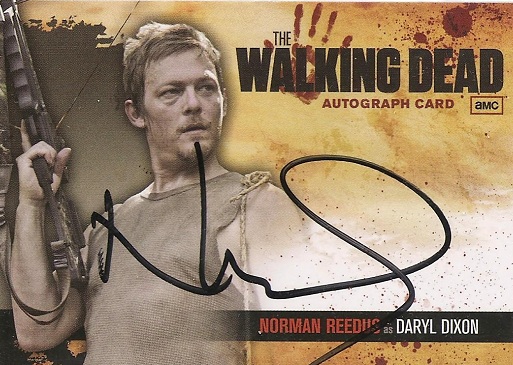 By Susan Lulgjuraj | Beckett Sports Card Monthly Editor
The Walking Dead's first go-around on trading cards was a hit with collectors, selling out from the Cryptozoic warehouse. That's the kind of success companies can't ignore.
On Tuesday, Cryptozoic released The Walking Dead Trading Cards Season 2.
The set features scenes from episodes, bios and chase cards. But the most popular aspect of the first season of cards was the autographs.
As part of Free Price Wednesday, we'll look at 2011 The Walking Dead Autographs.
The basics: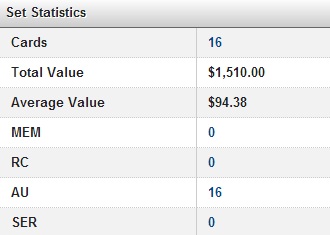 Here's a look at the autographs, sorted from highest value to lowest.
As you can see by the screen shot, the card with highest book value in the Becket database is Norman Reedus, who plays Daryl Dixon on the show. Reedus, however, was popular before The Walking Dead with fans of The Boondock Saints.
When it comes to autographs in non-sports products, it sometimes helps to have a following from another television show or movie.
Here's another picture that highlights one of Reedus' autograph, just to show exactly what can collectors can see.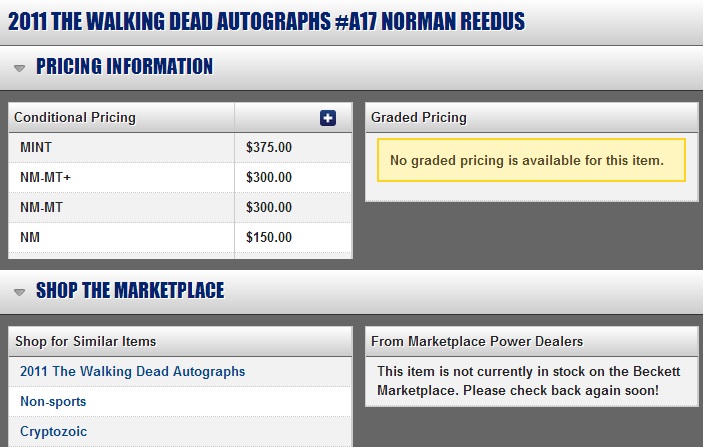 To get more information on the Online Price Guide, click here.
Susan Lulgjuraj is an editor of Beckett Sports Card Monthly. You can email her here with questions, comments or ideas. Follow her on Twitter here.